Westminster Dog Show: And the favorite is…
How and who to watch.
The 137th Annual Westminster Kennel Club Dog Show presented by Purina will bring the best of the canine world to New York City on Monday and Tuesday. The event, which showcases more than 2,700 dogs from 187 breeds and varieties, will also feature one big change: multiple locations.
Madison Square Garden is still the place to be in the evenings for the judging of Groups, Junior Showmanship Finals and Best in Show. But for the first time ever, breed judging will take place during the day at Piers 92/94 from 8:30 a.m. until 6 p.m.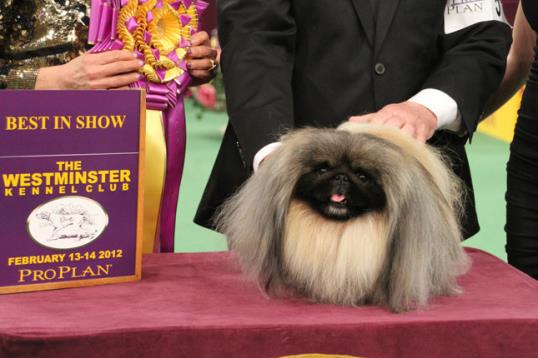 How to watch
For those unable to attend the show in person, never fear! On Monday, Feb. 11, you can watch the Hound, Toy, Non-Sporting and Herding Groups judged live from 8 to 11 p.m. ET on CNBC. The following night from 8 to 11 p.m. ET, USA Network will have exclusive coverage of Sporting, Working and Terrier Groups, as well as Best in Show.
Bing: The Westminster Dog Show
Don't want to wait until evening for your show dog fix? You can also catch videos posted throughout the day from the show on the Westminster website, and we'll be live blogging right here at Vetstreet too!
Who to watch
Last year the Best in Show award went to Malachy, a personable Pekingese who drew laughter from the audience as he seemed to float around the ring. This year, there's buzz surrounding a Wire Fox Terrier named Sky, who won the National Dog Show late last year.
While they might not necessarily be favored to win, it's always fun to keep an eye on the breeds competing at Westminster for the first time. And don't forget about the really unusual breeds; they're always fan favorites as they take a turn around the ring.
More from Vetstreet:
11 most unusual-looking breeds you'll see at Westminster
2 new breeds debut this year
10 popular dog breeds that have NEVER won Westminster
10 trendiest dog names of 2013
10 least-trendy names of 2013
Photo: Credit: Mary Bloom / Malachy the Pekingese, 2012 Westminster Best in Show winner.
pics, advice, info and stories for pet lovers
Tow lot employee finds abandoned pup.

Animals, says Dr. Patty Khuly, are the best listeners in the world and don't care that you've just been dumped or laid off.

With all the glitz and glamour that comes out of Tinseltown (not to mention the endless tabloid fodder), it's not always obvious that many celebrities are animal lovers, too.

"No! Bad dog!" How many times have you scolded your misbehaving canine with those words? Probably too many. But before you fly off the handle, one of the most important things to understand about correcting bad behavior is that punishment doesn't work.

Your dog loves sticking his head out the window, but imagine the tragic results of disregarding his (or your) safety.

Death is a natural part of life, but it's never easy to understand. Here are some tips when the time comes to talk to your kids about pets passing.

Are you a 'dog person' or 'cat person'?

Whether they're on small pups like the Pug or huge ones like the Mastiff, adorable wrinkles are the envy of many a dog lover — which is exactly why we set out in search of the canine world's most wrinkled breeds.

Adopting an animal is a major commitment. Yet all too often people put more effort into researching what kind of car to get than the type of pet that would best fit their lifestyle.

From certain species of butterflies, zebras to horses and cockatoos, you might be surprised that some of our favorite creatures are dying out.

Creating a cat-friendly home means incorporating elements that accommodate your cat's natural instincts to climb, scratch and rest. Why not look for furniture that gives kitty what she needs and offers function for you too?

You may not realize that these are toxic to your critters - keep your pets away from these household plants.