The Many Faces of 9/11 Hero Dogs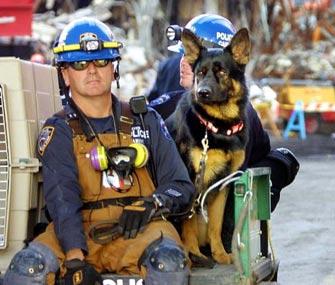 By Liz Ozaist
As the nation commemorates the anniversary of the 9/11 terrorist attacks, many Americans are reflecting on the lives lost and the brave individuals who risked their lives to help out in the aftermath.
Amid the many selfless heroes exists a group of often unsung and overlooked saviors — dogs. These four-footed troopers not only scoured the wreckage at Ground Zero alongside human handlers, but they also sprang into action as trained therapy animals and comforting companions in living rooms across the United States. Here's a look at some of the country's canine 9/11 heroes.
Search-and-Rescue Dogs
More than 300 canines descended on the rubble that was Ground Zero, searching for survivors and victims in the days following the tragedy. Some of the trained dogs belonged to volunteers, while others were part of professional teams. Regardless of their official capacity, the animals were invaluable to the recovery process, often belly-crawling into crevices and scaling the smoking pile of debris to find the deceased and bring closure to their families. Dogs included the late Trakr, a German shepherd who located the last survivor buried beneath the remnants of the Twin Towers.
To celebrate a few of these intrepid canines, photographer Charlotte Dumas created a moving book, Retrieved, which spotlights 15 of the search-and-rescue pups who combed Ground Zero. (For a look at many of the dogs featured in the book, see our article and slideshow.) One of Dumas' subjects, Red, a trained "live" find and cadaver dog, spent 11 days at the Pentagon locating remains for DNA identification, a job no less important than seeking out survivors.
Therapy Dogs
In addition to using their stellar scenting skills during the recovery efforts, numerous dogs provided much needed solace to people directly affected by the tragedy through the simple act of comfort. Trained animal-assisted therapy dogs spent time with rescue workers and relatives of victims at a family assistance center in New York City, as well as accompanied the grieving on ferry rides along the Hudson River.
For families who lost loved ones in the Pentagon, more than 40 volunteers from a group now known as Blue-Gray Spirit Keepers Therapy Dogs brought their pups to a family assistance center for a month after 9/11. In many instances, people in paralyzing shock were able to channel their profound grief just by hugging a therapy dog.
The National September 11 Memorial and Museum has posted an audio chat with Rachel McPherson, the founder and executive director of The Good Dog Foundation. The pet therapy organization worked closely with devastated families at the Pier 94 Family Assistance Center.
Our Beloved Pets
It goes without saying that animals give us one of the most beautiful gifts: unconditional love. And that was undoubtedly what helped many Americans deal with the emotions tied to such a tragic event, whether they lived in lower Manhattan or on the other side of the country, watching the arresting footage unfold in real time.
Some of these special stories are featured in an episode of a new Animal Planet series called Saved, including that of Blaze, a Dalmatian who helped one New York City family cope with the loss of two firefighter brothers.
The endless devotion and support that our pets provide — even in the most trying and frightening circumstances — are truly unique traits. Just ask Michael Hingson. His seeing-eye dog, Roselle, expertly took him down 78 flights of stairs in a World Trade Center building to safety. About 15 minutes later, the tower fell.
Did your pets help you cope with the aftermath of 9/11? If so, share your thoughts and remembrances in the comment section below.
Photo: Mario Tama, Getty Images
More from Vetstreet:
11 Truly American Dog Breeds
Photos: Meet 11 Search & Rescue Dogs From 9/11
Search-and-Rescue German Shepherd Gets Robotic Sidekick
Rescued Pit Bull Goes From "Thug" to Therapy Dog
Can All Dogs Swim? No, and This Popular Breed Is Worst
pics, advice, info and stories for pet lovers
Adopting an animal is a major commitment. Yet all too often people put more effort into researching what kind of car to get than the type of pet that would best fit their lifestyle.

'Tis the season to send out holiday greeting cards to all your friends and family. But, as our friends at Awkward Family Pet Photos know, not all holiday snapshots are the same. Some are just plain kooky — especially when pets are included. So with good tidings and great cheer, here are 10 wacky holiday animal portraits that are sure to make you laugh out loud and get you in the holiday spirit. And possibly make you think twice about dressing up the family cat this year.

King of the jungle? Nah, it's just a labradoodle!

Do you have a finicky furry friend on your holiday gift list this year? You're in luck! We've rounded up the coolest cat-approved products to bring you purrfect gift ideas for every kind of cat -- from the curious kitten to the most refined feline. Any one of these special gifts could make your resident kitty purr with pleasure and maybe, just maybe, like the present this year even more than the box and wrapping paper it came in!

Plus, puppy names to watch

We asked 218 veterinary professionals to vote on the dog breeds and mixes that are not good choices for first-time pet parents. German Shepherds, Bulldogs and Akitas are among the breeds new pet owners should steer clear of.

"No! Bad dog!" How many times have you scolded your misbehaving canine with those words? Probably too many. But before you fly off the handle, one of the most important things to understand about correcting bad behavior is that punishment doesn't work.

If you have a hard time cruising through the toy aisle without loading up, you're not alone. But the good news is that there are tons of inexpensive dog toys that still deliver big fun. Check out our picks, and be sure to share in the comments if we left off your dog's favorite!

Sexy mice? Yes, they exist

Stray surprises subway passengers.

Newly cast cat will better match character from the book series, producer and author say.