The Many Faces of 9/11 Hero Dogs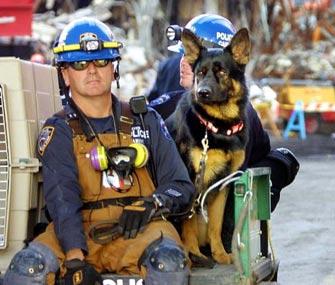 By Liz Ozaist
As the nation commemorates the anniversary of the 9/11 terrorist attacks, many Americans are reflecting on the lives lost and the brave individuals who risked their lives to help out in the aftermath.
Amid the many selfless heroes exists a group of often unsung and overlooked saviors — dogs. These four-footed troopers not only scoured the wreckage at Ground Zero alongside human handlers, but they also sprang into action as trained therapy animals and comforting companions in living rooms across the United States. Here's a look at some of the country's canine 9/11 heroes.
Search-and-Rescue Dogs
More than 300 canines descended on the rubble that was Ground Zero, searching for survivors and victims in the days following the tragedy. Some of the trained dogs belonged to volunteers, while others were part of professional teams. Regardless of their official capacity, the animals were invaluable to the recovery process, often belly-crawling into crevices and scaling the smoking pile of debris to find the deceased and bring closure to their families. Dogs included the late Trakr, a German shepherd who located the last survivor buried beneath the remnants of the Twin Towers.
To celebrate a few of these intrepid canines, photographer Charlotte Dumas created a moving book, Retrieved, which spotlights 15 of the search-and-rescue pups who combed Ground Zero. (For a look at many of the dogs featured in the book, see our article and slideshow.) One of Dumas' subjects, Red, a trained "live" find and cadaver dog, spent 11 days at the Pentagon locating remains for DNA identification, a job no less important than seeking out survivors.
Therapy Dogs
In addition to using their stellar scenting skills during the recovery efforts, numerous dogs provided much needed solace to people directly affected by the tragedy through the simple act of comfort. Trained animal-assisted therapy dogs spent time with rescue workers and relatives of victims at a family assistance center in New York City, as well as accompanied the grieving on ferry rides along the Hudson River.
For families who lost loved ones in the Pentagon, more than 40 volunteers from a group now known as Blue-Gray Spirit Keepers Therapy Dogs brought their pups to a family assistance center for a month after 9/11. In many instances, people in paralyzing shock were able to channel their profound grief just by hugging a therapy dog.
The National September 11 Memorial and Museum has posted an audio chat with Rachel McPherson, the founder and executive director of The Good Dog Foundation. The pet therapy organization worked closely with devastated families at the Pier 94 Family Assistance Center.
Our Beloved Pets
It goes without saying that animals give us one of the most beautiful gifts: unconditional love. And that was undoubtedly what helped many Americans deal with the emotions tied to such a tragic event, whether they lived in lower Manhattan or on the other side of the country, watching the arresting footage unfold in real time.
Some of these special stories are featured in an episode of a new Animal Planet series called Saved, including that of Blaze, a Dalmatian who helped one New York City family cope with the loss of two firefighter brothers.
The endless devotion and support that our pets provide — even in the most trying and frightening circumstances — are truly unique traits. Just ask Michael Hingson. His seeing-eye dog, Roselle, expertly took him down 78 flights of stairs in a World Trade Center building to safety. About 15 minutes later, the tower fell.
Did your pets help you cope with the aftermath of 9/11? If so, share your thoughts and remembrances in the comment section below.
Photo: Mario Tama, Getty Images
More from Vetstreet:
11 Truly American Dog Breeds
Photos: Meet 11 Search & Rescue Dogs From 9/11
Search-and-Rescue German Shepherd Gets Robotic Sidekick
Rescued Pit Bull Goes From "Thug" to Therapy Dog
Can All Dogs Swim? No, and This Popular Breed Is Worst
pics, advice, info and stories for pet lovers
Computer equipment delivery came with two cute stowaways.

Take a look at your house for these telltale signs that a cat is running the show.

Check out this list of requirements you should meet before getting a new puppy or adult dog.

Much like their famous owners, these pooches live a fabulous life. Some are rescues, others purebred, but one thing is certain – these dogs play an important part in their famous parents' lives. Can you guess who owns each of these dogs?

Pets are part of many children's lives. Learn how to help them foster strong, healthy relationships.

If you live with a feline companion, you know that cats can be quirky and totally entertaining. (Even if they'd never admit it in a million, trillion years.) Here are just a few of our favorite cat-isms, some with sandpaper tongue firmly in cheek. Did we miss any of yours?

Tummy troubles in your four-legged friends? Carrageenan in their pet food may be to blame.

There's more to choosing the perfect dog for your family than walking into a shelter and saying, "Find me one that looks like the dog from Marley and Me." Choosing a dog is more like buying a car. You want one that isn't just good looking, but is also a perfect fit for your family and lifestyle (and won't leak in the garage). Here are 8 great tips to help you determine the perfect pooch for your pack. By Jeremy Greenberg

CEO says, "it was one of the best ideas of my life"

Before you jump into marriage counseling, take a look at our list to see if you truly do love your dog more than your spouse.

Spring break isn't just for humans anymore. Cats and dogs know how to have fun in the sun, too, and would love to tag along on your vacation. In honor of the warm and relaxing days ahead, here are 15 pets catching some rays, going on hikes and floating in the pool.

Injuries often happen when dogs are outside chasing tennis balls or playing at dog parks. Because yours needs regular exercise, it can be difficult to protect him from many accidents.