The Many Faces of 9/11 Hero Dogs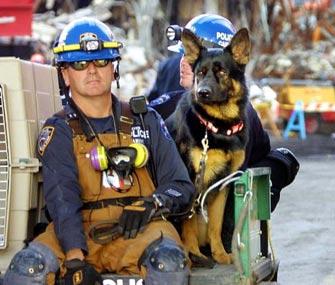 By Liz Ozaist
As the nation commemorates the anniversary of the 9/11 terrorist attacks, many Americans are reflecting on the lives lost and the brave individuals who risked their lives to help out in the aftermath.
Amid the many selfless heroes exists a group of often unsung and overlooked saviors — dogs. These four-footed troopers not only scoured the wreckage at Ground Zero alongside human handlers, but they also sprang into action as trained therapy animals and comforting companions in living rooms across the United States. Here's a look at some of the country's canine 9/11 heroes.
Search-and-Rescue Dogs
More than 300 canines descended on the rubble that was Ground Zero, searching for survivors and victims in the days following the tragedy. Some of the trained dogs belonged to volunteers, while others were part of professional teams. Regardless of their official capacity, the animals were invaluable to the recovery process, often belly-crawling into crevices and scaling the smoking pile of debris to find the deceased and bring closure to their families. Dogs included the late Trakr, a German shepherd who located the last survivor buried beneath the remnants of the Twin Towers.
To celebrate a few of these intrepid canines, photographer Charlotte Dumas created a moving book, Retrieved, which spotlights 15 of the search-and-rescue pups who combed Ground Zero. (For a look at many of the dogs featured in the book, see our article and slideshow.) One of Dumas' subjects, Red, a trained "live" find and cadaver dog, spent 11 days at the Pentagon locating remains for DNA identification, a job no less important than seeking out survivors.
Therapy Dogs
In addition to using their stellar scenting skills during the recovery efforts, numerous dogs provided much needed solace to people directly affected by the tragedy through the simple act of comfort. Trained animal-assisted therapy dogs spent time with rescue workers and relatives of victims at a family assistance center in New York City, as well as accompanied the grieving on ferry rides along the Hudson River.
For families who lost loved ones in the Pentagon, more than 40 volunteers from a group now known as Blue-Gray Spirit Keepers Therapy Dogs brought their pups to a family assistance center for a month after 9/11. In many instances, people in paralyzing shock were able to channel their profound grief just by hugging a therapy dog.
The National September 11 Memorial and Museum has posted an audio chat with Rachel McPherson, the founder and executive director of The Good Dog Foundation. The pet therapy organization worked closely with devastated families at the Pier 94 Family Assistance Center.
Our Beloved Pets
It goes without saying that animals give us one of the most beautiful gifts: unconditional love. And that was undoubtedly what helped many Americans deal with the emotions tied to such a tragic event, whether they lived in lower Manhattan or on the other side of the country, watching the arresting footage unfold in real time.
Some of these special stories are featured in an episode of a new Animal Planet series called Saved, including that of Blaze, a Dalmatian who helped one New York City family cope with the loss of two firefighter brothers.
The endless devotion and support that our pets provide — even in the most trying and frightening circumstances — are truly unique traits. Just ask Michael Hingson. His seeing-eye dog, Roselle, expertly took him down 78 flights of stairs in a World Trade Center building to safety. About 15 minutes later, the tower fell.
Did your pets help you cope with the aftermath of 9/11? If so, share your thoughts and remembrances in the comment section below.
Photo: Mario Tama, Getty Images
More from Vetstreet:
11 Truly American Dog Breeds
Photos: Meet 11 Search & Rescue Dogs From 9/11
Search-and-Rescue German Shepherd Gets Robotic Sidekick
Rescued Pit Bull Goes From "Thug" to Therapy Dog
Can All Dogs Swim? No, and This Popular Breed Is Worst
pics, advice, info and stories for pet lovers
The strong bonds that dogs can form are undeniable.

Think you know your pet's every unspoken wish? Think again. Your pet is unlikely to be capable of communicating her wants and needs in ways you might assume she would. Even those of you most in touch with your pets' feelings are likely missing a few cues here and there.

The Chesapeake Bay Retriever made both our readers' and veterinary professionals' lists of breeds that love the water.

You might proudly call yourself a dog owner, pet parent or canine guardian, but let's be real: Your dog owns you. You might be laughing now, but think about it — you've surrendered the best seat on the sofa to him, you plan your entire weekend around his trips to the dog park, and you take him to the groomer more often than you get your own hair cut. And let's not forget who's in every photo on your Facebook and Instagram feeds. Sound familiar? We thought so. But in case you still think you're in charge, here are seven classic signs that your dog is the one calling the shots.

One of the best things about being a veterinarian is all the different dogs I get to meet. Of course, I love the Labs and Beagles and Boxers and Poodles, not to mention those crazy Canine Cocktails, or what my parents used to call Heinz 57s. They are among the more popular dogs out there, and I see a lot of them. In fact, it used to be that it was rare to see anything else. Here are nine dog breeds I sometimes see now that I didn't see in the past.

We asked veterinary experts and readers which breeds they think and if it is OK to shave longhaired pets in the summer.

If you're searching for a breed that may enjoy the company of a kid, we have some great suggestions for you.

When searching for the right dog to add to your family, your first instinct might be to bring home a tiny little thing that your kids can cradle in their laps. But we're here to remind you that the best fit for you may be a large dog breed.

Many breeds were developed to do work that required them to act independently. Those dogs tend to be smart, but as family pets, they may need more leadership and training than others. Ultimately, though, they're worth it. Here are 11 dog breeds that tend to have independent personalities.

Many of us here at Vetstreet are fascinated by pets who have unique coats and cool shapes hidden in their markings. So we asked our Facebook fans to share pictures of animals that have interesting coloration, and you did not disappoint. From mustachioed cats to a horse of a different color, here are our 13 favorite photos of pets with cool coats.

We surveyed 284 veterinary professionals (including vets, veterinary technicians and office staff) to see which breeds they felt were most likely to chew something they shouldn't and wind up in the veterinary emergency room, and we've listed the top five answers below. Do you agree with their opinions? Which breeds would you add to the list?

This Fourth of July, Americans will celebrate with the sights and sounds of fireworks. While we love the pyrotechnics, it's important to remember that our patriotic midsummer spectacular is no holiday for many of our pets.