Researchers: Seeing photos of cute animals incites 'aggression'
A Yale graduate student is trying to find out why.
How many times have you said something like, "I want to eat you up!" when seeing an adorable puppy? An experiment by Rebecca Dyer, a graduate student in psychology at Yale University, and her colleagues found that seeing pictures of cute animals actually incites aggression in humans — more so than when they see funny or neutral animal photos.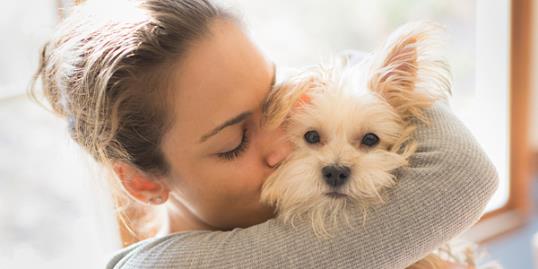 The researchers don't know the reason for this aggressive tendency, but Dryer said it's possible that seeing the picture makes us frustrated that we can't actually care for the animal in it, or that it's a display of overwhelmingly positive emotion — like the way Miss America cries with happiness when she's crowned.
Bing: See photos of adorable puppies and kittens.
"We think it's about high positive-affect, an approach orientation and almost a sense of lost control," researcher Dyer was quoted in a Live Science article. "You know, you can't stand it, you can't handle it, that kind of thing."
The results were presented at a meeting of the Society for Personality and Social Psychology in New Orleans.
— Read it at Live Science
More from Vetstreet:
Rare white penguin spotted in Antarctica
6 facts about penguins you don't know
Photos: 10 cute pets wearing sweaters
Why does my dog… stare at me?
13 largest dog breeds: Towering and commanding
Photo: Gary S Chapman/Getty Images
pics, advice, info and stories for pet lovers
Plus, puppy names to watch

We asked 218 veterinary professionals to vote on the dog breeds and mixes that are not good choices for first-time pet parents. German Shepherds, Bulldogs and Akitas are among the breeds new pet owners should steer clear of.

"No! Bad dog!" How many times have you scolded your misbehaving canine with those words? Probably too many. But before you fly off the handle, one of the most important things to understand about correcting bad behavior is that punishment doesn't work.

If you have a hard time cruising through the toy aisle without loading up, you're not alone. But the good news is that there are tons of inexpensive dog toys that still deliver big fun. Check out our picks, and be sure to share in the comments if we left off your dog's favorite!

Sexy mice? Yes, they exist