Researchers: Seeing photos of cute animals incites 'aggression'
A Yale graduate student is trying to find out why.
How many times have you said something like, "I want to eat you up!" when seeing an adorable puppy? An experiment by Rebecca Dyer, a graduate student in psychology at Yale University, and her colleagues found that seeing pictures of cute animals actually incites aggression in humans — more so than when they see funny or neutral animal photos.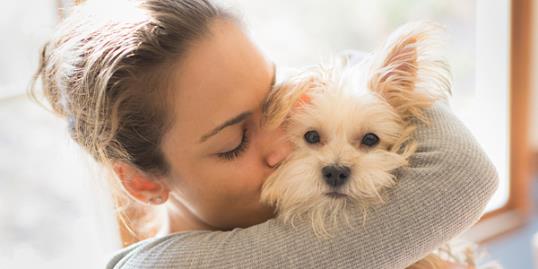 The researchers don't know the reason for this aggressive tendency, but Dryer said it's possible that seeing the picture makes us frustrated that we can't actually care for the animal in it, or that it's a display of overwhelmingly positive emotion — like the way Miss America cries with happiness when she's crowned.
Bing: See photos of adorable puppies and kittens.
"We think it's about high positive-affect, an approach orientation and almost a sense of lost control," researcher Dyer was quoted in a Live Science article. "You know, you can't stand it, you can't handle it, that kind of thing."
The results were presented at a meeting of the Society for Personality and Social Psychology in New Orleans.
— Read it at Live Science
More from Vetstreet:
Rare white penguin spotted in Antarctica
6 facts about penguins you don't know
Photos: 10 cute pets wearing sweaters
Why does my dog… stare at me?
13 largest dog breeds: Towering and commanding
Photo: Gary S Chapman/Getty Images
pics, advice, info and stories for pet lovers
This year, Animal Planet is pulling out all the stops for Puppy Bowl X. The tenth-anniversary extravaganza promises penguin cheerleaders, canine first responders singing the National Anthem, and special appearances by Lil Bub and Keyboard Cat, who will be performing a piano-filled rendition of Bruno Mars' "Locked Out of Heaven" during the kitten halftime show. Best of all, continuing the tradition of showcasing adoptable pets, all the puppy players are up for adoption or have already found forever families. We're hoping that the pups are watching themselves on TV from the comfort of their new homes. The main event starts at 3 p.m. EST on February 2 on Animal Planet. As you wait for the most anticipated event of the season, check out the starting lineup of some of our favorite Puppy Bowl players. And be sure to head to the Animal Planet site later this month to create your own Puppy Bowl fantasy league. Out of 11 all-star puppies, participants will be able to pick a fantasy team of three players.

Walter the otter is settling into his new home

We recently listed the top five smartest dog breeds as chosen by veterinary professionals, and, unsurprisingly, our readers were quick to comment on other breeds that show enormous intelligence. Now we're sharing another result from that survey of 122 veterinary professionals. We aren't going to say "least intelligent" because all dogs have their own kind of genius, right? But we will say that in the opinion of the surveyed veterinary professionals, the breeds named here aren't necessarily known for their cleverness even if they are known for having many wonderful characteristics. Of course, please know that in no way are we saying these dogs aren't smart or aren't trainable. They just might not keep up with the Border Collie in their obedience class. And that's OK — whether our pets sit at the front of the class or flunk out of puppy school, we love them just the same.

Typically, cats don't rush up and bombard you with kisses like some dogs, but many do display genuine friendliness. Happy-to-be-with-you cats range from the demure lap lounger to the chatty feline who escorts you from room to room. Vetstreet shines the spotlight on nine feline breeds with stellar reputations for thoroughly enjoying the company of their favorite people.

Do you find it hard to sit still? Would you rather spend your time running and playing and working outdoors instead of lounging at home on the couch? If so, you may have met your match in these breeds. We polled 122 veterinary experts to get their opinions on which dog breeds are the most energetic. Here are the five that received the most votes!

Are cats an acquired taste?