Researchers: Seeing photos of cute animals incites 'aggression'
A Yale graduate student is trying to find out why.
How many times have you said something like, "I want to eat you up!" when seeing an adorable puppy? An experiment by Rebecca Dyer, a graduate student in psychology at Yale University, and her colleagues found that seeing pictures of cute animals actually incites aggression in humans — more so than when they see funny or neutral animal photos.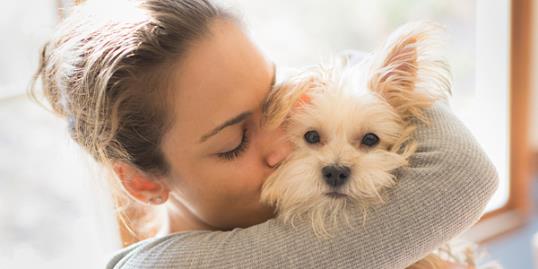 The researchers don't know the reason for this aggressive tendency, but Dryer said it's possible that seeing the picture makes us frustrated that we can't actually care for the animal in it, or that it's a display of overwhelmingly positive emotion — like the way Miss America cries with happiness when she's crowned.
Bing: See photos of adorable puppies and kittens.
"We think it's about high positive-affect, an approach orientation and almost a sense of lost control," researcher Dyer was quoted in a Live Science article. "You know, you can't stand it, you can't handle it, that kind of thing."
The results were presented at a meeting of the Society for Personality and Social Psychology in New Orleans.
— Read it at Live Science
More from Vetstreet:
Rare white penguin spotted in Antarctica
6 facts about penguins you don't know
Photos: 10 cute pets wearing sweaters
Why does my dog… stare at me?
13 largest dog breeds: Towering and commanding
Photo: Gary S Chapman/Getty Images
pics, advice, info and stories for pet lovers
I love all pets. I wouldn't be a veterinarian if I didn't, and I celebrate the human-animal bond every day. I do look forward, though, to the day when these five breeds aren't as popular. The reasons vary, but in many cases the problems are health-related, and overbreeding by puppy mills and other less-than-ideal operations has a lot to do with that. What would help these breeds is for there to be a lot less of them. A couple of them need many more adopters and far less breeding, and all would benefit from people who are well-prepared for the challenges of owning a dog, and who make sure to look to rescue, shelters and reputable breeders for their pets. As always, whatever pet you choose, we veterinarians are here to help you make healthy choices for life.

The mayor of an affluent California town has landed himself in a messy situation.

Dog reunited with owner in Brazil.

These breeds used to be more popular, but they could just be one hit TV show, movie or commercial away from a comeback.

267 veterinary professionals offered up their picks for the Most Athletic, Biggest Flirt and other popular high school categories.