Researchers: Seeing photos of cute animals incites 'aggression'
A Yale graduate student is trying to find out why.
How many times have you said something like, "I want to eat you up!" when seeing an adorable puppy? An experiment by Rebecca Dyer, a graduate student in psychology at Yale University, and her colleagues found that seeing pictures of cute animals actually incites aggression in humans — more so than when they see funny or neutral animal photos.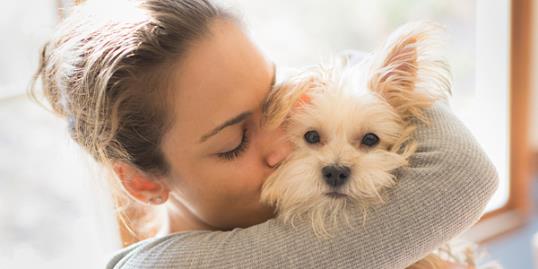 The researchers don't know the reason for this aggressive tendency, but Dryer said it's possible that seeing the picture makes us frustrated that we can't actually care for the animal in it, or that it's a display of overwhelmingly positive emotion — like the way Miss America cries with happiness when she's crowned.
Bing: See photos of adorable puppies and kittens.
"We think it's about high positive-affect, an approach orientation and almost a sense of lost control," researcher Dyer was quoted in a Live Science article. "You know, you can't stand it, you can't handle it, that kind of thing."
The results were presented at a meeting of the Society for Personality and Social Psychology in New Orleans.
— Read it at Live Science
More from Vetstreet:
Rare white penguin spotted in Antarctica
6 facts about penguins you don't know
Photos: 10 cute pets wearing sweaters
Why does my dog… stare at me?
13 largest dog breeds: Towering and commanding
Photo: Gary S Chapman/Getty Images
pics, advice, info and stories for pet lovers
When searching for the right dog to add to your family, your first instinct might be to bring home a tiny little thing that your kids can cradle in their laps. But we're here to remind you that the best dog for you may be a larger breed. Big dogs like Labrador Retrievers and Saint Bernards can become a child's protector, adventure buddy and best friend. Check out this slideshow to see nine large breeds that can be good for families.

In case you haven't heard, March 21 is a very special day -- it's National Puppy Day! The holiday was created nine years ago to not only celebrate the joy, love and cuteness young pups bring into our lives, but also to help save orphaned puppies all over the world. In honor of puppies everywhere, we've found 14 precious pooches to share with you.

When you're sick, your four-legged family members can provide enormous comfort just by being there.

If you're looking for a dog who's content to spend a lazy Sunday afternoon with you, lounging on the couch, reading a book -- well, you'll be doing the reading, and the dog will be doing the lounging -- you've come to the right place. From the Pug to the Shih Tzu, we've rounded up seven affectionate breeds who excel at being lap dogs.

There's no denying that cats are excellent companions, but sometimes they do something that leaves you scratching your head in total confusion. If you're used to dogs, cats' social interactions and the way they communicate can be very confusing. Yet it's these special behaviors, like affectionate head-butting and their penchant for cardboard boxes, that make us love them so much. To help you better understand your elusive feline, we rounded up 10 cat behaviors that people commonly consider mysterious. You'll find that many of these habits aren't weird at all for cats -- they're normal. Click through this slideshow to learn more about mysterious feline habits and what they mean.

Some of the most commonly marketed "oral health improvement" items are considered unsafe, unwholesome and/or downright unhelpful by board-certified veterinary dentists.

Cats are sweet, loving, funny pets who are oft misunderstood by those who haven't had the pleasure of owning — or, rather, being owned by — a cat. As a result, cat people often hear misguided comments about their life with their cats. Here are seven things that you should never say to a cat person — unless you want to get swatted.

Before you run out and get a dog, make sure you're prepared for the responsibility.

We've looked at the trendiest cat names of the year (as well as the least trendy), and now it's time to look into the latest trends in canine names based on 2013 data. Of course, we've already shared the most "popular" puppy names, but "trendy" is a little different -- while popularity is based solely on the number of puppies given a certain name during the course of the year, trendiness is based on how much a particular name has risen in popularity over the course of a decade. That means that a name might be incredibly trendy, but not even break into the Top 50 for popularity. To determine which names belong on this list, we looked at our database of 925,000 names given in 2013 and compared their popularity that year to their popularity in 2004. The 10 female and male names that gained the most ground made the cut.

They lay, they play, and they take selfies with supermodels. Meet 5 of the most social media-savvy pets—animals taking control of their own fashionable online image.

Not many leading ladies have four legs, lots of hair and, well, dog breath. But that hasn't stopped Chris Naka from posing alongside office pooch Wrigley in a series of pictures recreating iconic scenes from romantic movies. Naka, 30, told Today that the fun began when he and his creative coworkers at the Blue Man Group in Chicago decided to use the last few minutes of their lunch break to pose their boss' dog with him in a scene from Titanic. And an idea was born. "Someone printed a bunch of our early pictures, posted them in the green room, and folks from all over the theater started sending emails with movie suggestions," he said. Check out some of their funny (and bizarre) pictures here.