Kitten born without bones in front legs
Charity gives second chance to kitty with rare disease.
At 4 months old, Harvey doesn't realize he's different. The energetic kitten was born without bones connecting his paws to the bones in the upper part of his front legs, a rare condition called radial agenesis.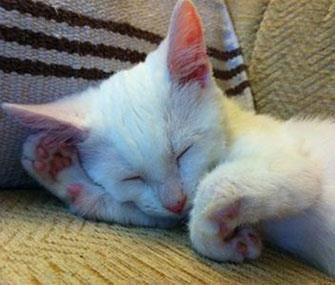 Bing: More about the rare disease
Taken in by the Glasgow, Scotland, branch of the animal charity Cats Protection, Harvey lives in a foster home and gets around just fine on his elbows.
He's a lovely little thing," said foster mom Liz McCulloch. "He … happily plays with my other cat and dog." But running around that way could damage Harvey's spine as he gets older, so the charity raised $4,700 within just a few days to pay for surgery for the kitty.
Harvey is now awaiting his operation and will be placed in a forever home once he recovers.
— Read it at the Huffington Post
More from Vetstreet:
4 places to pet our Cat  and 1 to leave alone
Why does my cat… bite me when I pet her?
Kitten and parrot fight for couch supremacy
10 most out-of-fashion dog names for 2013
10 best ways to research your pets health online
Photo: Facebook / CP Glasgow / Harvey the kitten will undergo surgery to correct his paws.
pics, advice, info and stories for pet lovers
They lay, they play, and they take selfies with supermodels. Meet 5 of the most social media-savvy pets—animals taking control of their own fashionable online image.

Not many leading ladies have four legs, lots of hair and, well, dog breath. But that hasn't stopped Chris Naka from posing alongside office pooch Wrigley in a series of pictures recreating iconic scenes from romantic movies. Naka, 30, told Today that the fun began when he and his creative coworkers at the Blue Man Group in Chicago decided to use the last few minutes of their lunch break to pose their boss' dog with him in a scene from Titanic. And an idea was born. "Someone printed a bunch of our early pictures, posted them in the green room, and folks from all over the theater started sending emails with movie suggestions," he said. Check out some of their funny (and bizarre) pictures here.

We talked to 122 veterinary professionals and got their take on which canines are the smartest of them all.

This year, Animal Planet is pulling out all the stops for Puppy Bowl X. The tenth-anniversary extravaganza promises penguin cheerleaders, canine first responders singing the National Anthem, and special appearances by Lil Bub and Keyboard Cat, who will be performing a piano-filled rendition of Bruno Mars' "Locked Out of Heaven" during the kitten halftime show. Best of all, continuing the tradition of showcasing adoptable pets, all the puppy players are up for adoption or have already found forever families. We're hoping that the pups are watching themselves on TV from the comfort of their new homes. The main event starts at 3 p.m. EST on February 2 on Animal Planet. As you wait for the most anticipated event of the season, check out the starting lineup of some of our favorite Puppy Bowl players. And be sure to head to the Animal Planet site later this month to create your own Puppy Bowl fantasy league. Out of 11 all-star puppies, participants will be able to pick a fantasy team of three players.

Walter the otter is settling into his new home

We recently listed the top five smartest dog breeds as chosen by veterinary professionals, and, unsurprisingly, our readers were quick to comment on other breeds that show enormous intelligence. Now we're sharing another result from that survey of 122 veterinary professionals. We aren't going to say "least intelligent" because all dogs have their own kind of genius, right? But we will say that in the opinion of the surveyed veterinary professionals, the breeds named here aren't necessarily known for their cleverness even if they are known for having many wonderful characteristics. Of course, please know that in no way are we saying these dogs aren't smart or aren't trainable. They just might not keep up with the Border Collie in their obedience class. And that's OK — whether our pets sit at the front of the class or flunk out of puppy school, we love them just the same.

Typically, cats don't rush up and bombard you with kisses like some dogs, but many do display genuine friendliness. Happy-to-be-with-you cats range from the demure lap lounger to the chatty feline who escorts you from room to room. Vetstreet shines the spotlight on nine feline breeds with stellar reputations for thoroughly enjoying the company of their favorite people.

Do you find it hard to sit still? Would you rather spend your time running and playing and working outdoors instead of lounging at home on the couch? If so, you may have met your match in these breeds. We polled 122 veterinary experts to get their opinions on which dog breeds are the most energetic. Here are the five that received the most votes!

Are cats an acquired taste?

Researchers say invention can tell you what your dog is thinking.

Mom shocked by big fish in photo.