Pet Scoop: War Vet Faces Eviction Over Pup, Bison as the National Mammal & More
We've scoured the Web to find the best and most compelling animal stories, videos and photos. And it's all right here.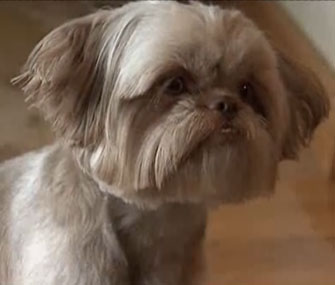 Former Soldier Fights to Keep His Dog — and His Home
Eugene Ovsishcher calls Mickey, a 1-year-old Shih Tzu, his "medicine."
According to The New York Times
, the Afghan war veteran got the pup after a psychiatrist told him that a dog might be able to help him cope with post-traumatic stress. And Mickey has been a big help, waking his owner from nightmares and calming his anxiety. But like many apartment buildings in New York City, Ovsishcher's co-op doesn't allow dogs — and the board at this complex won't recognize Mickey as a comfort dog. The parties are now headed to court next month.
— Watch it at NBC New York
Photo: Mickey the Shih Tzu helps his owner, an Afghan war vet, combat post-traumatic stress. (NBC New York, courtesy of Vetstreet.com)
The Bison Could Become the National Mammal
Legislation has been introduced in Congress to make the bison, known for roaming the old West, the national mammal of the U.S. The National Bison Legacy Act was introduced by Wyoming Sen. Mike Enzi — and the push for this symbolic designation has rare bipartisan support. "Since our frontier days, the bison has become a symbol of American strength and determination," Enzi said. —
Read it at MSNBC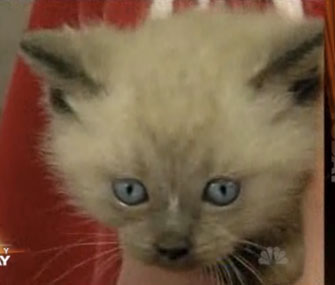 Kittens Freed From Under Cement in New Home
Construction workers in Utah were stumped when they heard meowing in a home they were building. After tearing open walls, they finally cracked open the cement they'd poured for the garage floor — two weeks ago. There, they found a litter of kittens, who they were able to pull out and save. —
Watch it at Today
Photo: Home builders in Utah cut through cement to rescue a litter of kittens.(Today, Courtesy of Vetstreet.com)
Falcons Brought in to Combat Pigeons at French Open
About 30 pigeons had settled at Roland Garros, the Paris home of the French Open. When loudspeaker noises failed to scare the birds off, falcons were welcomed to the site, and will stay for the rest of the famed tennis tournament to keep the pigeons away. —
Read it at Fox Sports
Dog Found Safe After Falling Into Chicago River
A Pomeranian named Tank was returned to his owners with the help of some good Samaritans in Chicago. Tank, who was wearing a life vest, fell off his owners' boat into the Chicago River on Sunday night. After searching into the early morning hours on Monday, the dog's owners were about to give up hope when they got a call from a woman saying she'd spotted Tank on land — still wearing his life jacket. Another woman took the dog in and fed him, and reunited Tank with his grateful owners. —
Read it at Today
More from Vetstreet.com
pics, advice, info and stories for pet lovers
With all the glitz and glamour that comes out of Tinseltown (not to mention the endless tabloid fodder), it's not always obvious that many celebrities are animal lovers, too.

From designer crosses to giant breeds, we scoured Vetstreet's data of millions of dog breeds to determine the trendiest breeds of the past decade.

Tow lot employee finds abandoned pup.

Animals, says Dr. Patty Khuly, are the best listeners in the world and don't care that you've just been dumped or laid off.

"No! Bad dog!" How many times have you scolded your misbehaving canine with those words? Probably too many. But before you fly off the handle, one of the most important things to understand about correcting bad behavior is that punishment doesn't work.

Your dog loves sticking his head out the window, but imagine the tragic results of disregarding his (or your) safety.

Death is a natural part of life, but it's never easy to understand. Here are some tips when the time comes to talk to your kids about pets passing.

Are you a 'dog person' or 'cat person'?

Whether they're on small pups like the Pug or huge ones like the Mastiff, adorable wrinkles are the envy of many a dog lover — which is exactly why we set out in search of the canine world's most wrinkled breeds.

Adopting an animal is a major commitment. Yet all too often people put more effort into researching what kind of car to get than the type of pet that would best fit their lifestyle.

From certain species of butterflies, zebras to horses and cockatoos, you might be surprised that some of our favorite creatures are dying out.

Creating a cat-friendly home means incorporating elements that accommodate your cat's natural instincts to climb, scratch and rest. Why not look for furniture that gives kitty what she needs and offers function for you too?