How Ernest Hemingway's cats became a federal case
A catfight brews in Key West, Fla. as descendants of the famous six-toed felines raised by the late famous author are subjected to federal oversight.
For most of the 1930s, Ernest Hemingway lived and worked at 907 Whitehead Street in Key West, Fla. It was here where the author completed the partially autographic novel, A Farewell to Arms. According to the website for The Ernest Hemingway Home & Museum, the Spanish Colonial style home was built in 1851. Following a major restoration by Ernest and his wife, Pauline, the stately residence landed on the National Historical Landmark list.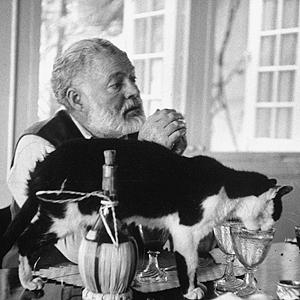 More on MSN Living: 13 largest dog breeds
In a very visible living link to the past, are the 40-50 polydactyl (six-toed) descendants of Hemingway's cats that freely roam the writer's former home, reports The Christian Science Monitor. According to the museum's website, Hemingway was given a white six-toed cat, named Snowball by a ship's captain.
Concern for the cats' care has placed the museum under the scrutiny of the U.S. Department of Agriculture (U.S.D.A.), which said that if the museum wanted to display cats it needed an exhibitor's license as required under the federal Animal Welfare Act.
Federal officials insisted upon the implementation of drastic measures in the care and feeding of the cats, to which the museum fought back. It was ruled that the U.S.D.A. was well within its rights to regulate the felines, questioning whether the Hemingway cats "substantially affect" interstate commerce.
More on MSN Living: 8 bizarre animal crossing signs
"The Museum invites and receives thousands of admissions-paying visitors from beyond Florida, many of whom are drawn by the Museum's reputation for and purposeful marketing of the Hemingway cats," Chief Judge Joel Dubina was quoted.
"The exhibition of the Hemingway cats is integral to the Museum's commercial purpose, and thus, their exhibition affects interstate commerce," Dubina was quoted. "For these reasons, Congress has the power to regulate the Museum and the exhibition of the Hemingway cats via the AWA."
Photo: Tore Johnson/Pix Inc./Time Life Pictures/Getty Images
Bing: Facts about Ernest Hemingway
More from Off the Leash:
Miley Cyrus' dog dies
Dog survives 13 days on snowy mountain
Beloved cat shelter in Rome battles to stay open
pics, advice, info and stories for pet lovers
Tow lot employee finds abandoned pup.

Animals, says Dr. Patty Khuly, are the best listeners in the world and don't care that you've just been dumped or laid off.

With all the glitz and glamour that comes out of Tinseltown (not to mention the endless tabloid fodder), it's not always obvious that many celebrities are animal lovers, too.

"No! Bad dog!" How many times have you scolded your misbehaving canine with those words? Probably too many. But before you fly off the handle, one of the most important things to understand about correcting bad behavior is that punishment doesn't work.

Your dog loves sticking his head out the window, but imagine the tragic results of disregarding his (or your) safety.

Death is a natural part of life, but it's never easy to understand. Here are some tips when the time comes to talk to your kids about pets passing.

Are you a 'dog person' or 'cat person'?

Whether they're on small pups like the Pug or huge ones like the Mastiff, adorable wrinkles are the envy of many a dog lover — which is exactly why we set out in search of the canine world's most wrinkled breeds.

Adopting an animal is a major commitment. Yet all too often people put more effort into researching what kind of car to get than the type of pet that would best fit their lifestyle.

From certain species of butterflies, zebras to horses and cockatoos, you might be surprised that some of our favorite creatures are dying out.

Creating a cat-friendly home means incorporating elements that accommodate your cat's natural instincts to climb, scratch and rest. Why not look for furniture that gives kitty what she needs and offers function for you too?

You may not realize that these are toxic to your critters - keep your pets away from these household plants.