How Ernest Hemingway's cats became a federal case
A catfight brews in Key West, Fla. as descendants of the famous six-toed felines raised by the late famous author are subjected to federal oversight.
For most of the 1930s, Ernest Hemingway lived and worked at 907 Whitehead Street in Key West, Fla. It was here where the author completed the partially autographic novel, A Farewell to Arms. According to the website for The Ernest Hemingway Home & Museum, the Spanish Colonial style home was built in 1851. Following a major restoration by Ernest and his wife, Pauline, the stately residence landed on the National Historical Landmark list.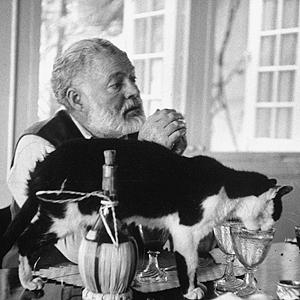 More on MSN Living: 13 largest dog breeds
In a very visible living link to the past, are the 40-50 polydactyl (six-toed) descendants of Hemingway's cats that freely roam the writer's former home, reports The Christian Science Monitor. According to the museum's website, Hemingway was given a white six-toed cat, named Snowball by a ship's captain.
Concern for the cats' care has placed the museum under the scrutiny of the U.S. Department of Agriculture (U.S.D.A.), which said that if the museum wanted to display cats it needed an exhibitor's license as required under the federal Animal Welfare Act.
Federal officials insisted upon the implementation of drastic measures in the care and feeding of the cats, to which the museum fought back. It was ruled that the U.S.D.A. was well within its rights to regulate the felines, questioning whether the Hemingway cats "substantially affect" interstate commerce.
More on MSN Living: 8 bizarre animal crossing signs
"The Museum invites and receives thousands of admissions-paying visitors from beyond Florida, many of whom are drawn by the Museum's reputation for and purposeful marketing of the Hemingway cats," Chief Judge Joel Dubina was quoted.
"The exhibition of the Hemingway cats is integral to the Museum's commercial purpose, and thus, their exhibition affects interstate commerce," Dubina was quoted. "For these reasons, Congress has the power to regulate the Museum and the exhibition of the Hemingway cats via the AWA."
Photo: Tore Johnson/Pix Inc./Time Life Pictures/Getty Images
Bing: Facts about Ernest Hemingway
More from Off the Leash:
Miley Cyrus' dog dies
Dog survives 13 days on snowy mountain
Beloved cat shelter in Rome battles to stay open
pics, advice, info and stories for pet lovers
Take a look at your house for these telltale signs that a cat is running the show.

Check out this list of requirements you should meet before getting a new puppy or adult dog.

Much like their famous owners, these pooches live a fabulous life. Some are rescues, others purebred, but one thing is certain – these dogs play an important part in their famous parents' lives. Can you guess who owns each of these dogs?

Pets are part of many children's lives. Learn how to help them foster strong, healthy relationships.

If you live with a feline companion, you know that cats can be quirky and totally entertaining. (Even if they'd never admit it in a million, trillion years.) Here are just a few of our favorite cat-isms, some with sandpaper tongue firmly in cheek. Did we miss any of yours?

Tummy troubles in your four-legged friends? Carrageenan in their pet food may be to blame.

There's more to choosing the perfect dog for your family than walking into a shelter and saying, "Find me one that looks like the dog from Marley and Me." Choosing a dog is more like buying a car. You want one that isn't just good looking, but is also a perfect fit for your family and lifestyle (and won't leak in the garage). Here are 8 great tips to help you determine the perfect pooch for your pack. By Jeremy Greenberg

CEO says, "it was one of the best ideas of my life"

Before you jump into marriage counseling, take a look at our list to see if you truly do love your dog more than your spouse.

Spring break isn't just for humans anymore. Cats and dogs know how to have fun in the sun, too, and would love to tag along on your vacation. In honor of the warm and relaxing days ahead, here are 15 pets catching some rays, going on hikes and floating in the pool.

Injuries often happen when dogs are outside chasing tennis balls or playing at dog parks. Because yours needs regular exercise, it can be difficult to protect him from many accidents.

When searching for the right dog to add to your family, your first instinct might be to bring home a tiny little thing that your kids can cradle in their laps. But we're here to remind you that the best dog for you may be a larger breed. Big dogs like Labrador Retrievers and Saint Bernards can become a child's protector, adventure buddy and best friend. Check out this slideshow to see nine large breeds that can be good for families.