Therapy llama lifts patients' spirits
Move over, therapy dogs.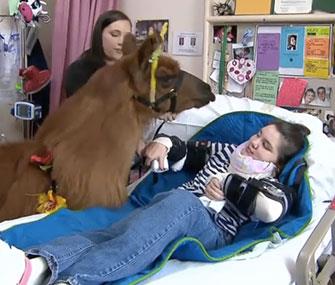 Turns out dogs aren't the only animals that can make people feel better. Meet Rojo the llama and Napoleon, his alpaca friend, a pair of unique therapy animals from Vancouver, Wash. Rojo "grew up to be this amazing, huggable, lovable llama, and somebody at a fair came up to us and said, "You should get him certified for therapy,'" said Lori Gregory. Gregory took the advice to heart and started
Mountain Peaks Therapy Llamas and Alpacas
.  Now her therapy teams dress up with flowers and little hats and visit hospitals and senior centers. "[Rojo is] such a quiet, gentle, peaceful soul … it's like he really knows how special he is and how special the kids are," said Kelly Schmidt of the Providence Children's Center in Oregon. "It's very a contagious spirit to have Rojo around because it's just so unusual."
More from Vetstreet:

20 animals surprisingly going extinct
5 best dogs for your golden years
Why does my cat bite me when I pet her?
This dog breed has a mohawk and hunts lions. Oh, my!
Why I don't trust non-pet people
I do so miss my Llama Romeo who potty trained many fillies and colts from soiling their stalls. He would scurry them outside every time they messed and soon they all became "Horse Broken" and kept their stalls clean. He died when a friend tied him up to a fence near her Rodey Bush. He ate the toxic leaves and the vet could do nothing. He died in my arms. Not Alone.

 Therapy pets really do make a wonderful difference in lives of patients.  The hospital that I work for has a therapy dog program.  The dogs ( and thier owners ) are Volunteers for the hospital.  The Volunteers give the patients something to look forward to during their hospital stay.  The therapy dogs are happy, the pet owners are happy and the patients enjoy the company of the therapy dogs.  Unconditional love is a wonderful healer.
Are you sure you want to delete this comment?
pics, advice, info and stories for pet lovers
As you trim your tree, hang the lights, bake cookies and prepare for guests, remember that there's a certain member of your family who also deserves something extra special this holiday season: your dog. Save a little space under the tree for these beds, toys, collars and outfits for your favorite canine. Plus, we've even included a couple of gifts for the dog lovers in your life!

Dr. Marty Becker shares questions you should ask yourself before making the commitment to foster a shelter pet.

Adopting an animal is a major commitment. Yet all too often people put more effort into researching what kind of car to get than the type of pet that would best fit their lifestyle.

'Tis the season to send out holiday greeting cards to all your friends and family. But, as our friends at Awkward Family Pet Photos know, not all holiday snapshots are the same. Some are just plain kooky — especially when pets are included. So with good tidings and great cheer, here are 10 wacky holiday animal portraits that are sure to make you laugh out loud and get you in the holiday spirit. And possibly make you think twice about dressing up the family cat this year.

King of the jungle? Nah, it's just a labradoodle!

Do you have a finicky furry friend on your holiday gift list this year? You're in luck! We've rounded up the coolest cat-approved products to bring you purrfect gift ideas for every kind of cat -- from the curious kitten to the most refined feline. Any one of these special gifts could make your resident kitty purr with pleasure and maybe, just maybe, like the present this year even more than the box and wrapping paper it came in!

Plus, puppy names to watch

We asked 218 veterinary professionals to vote on the dog breeds and mixes that are not good choices for first-time pet parents. German Shepherds, Bulldogs and Akitas are among the breeds new pet owners should steer clear of.

"No! Bad dog!" How many times have you scolded your misbehaving canine with those words? Probably too many. But before you fly off the handle, one of the most important things to understand about correcting bad behavior is that punishment doesn't work.

If you have a hard time cruising through the toy aisle without loading up, you're not alone. But the good news is that there are tons of inexpensive dog toys that still deliver big fun. Check out our picks, and be sure to share in the comments if we left off your dog's favorite!

Sexy mice? Yes, they exist