Japan's Rent-a-Pet Cafes Are All the Rage
People can pay by the hour to hang out with felines in cat cafes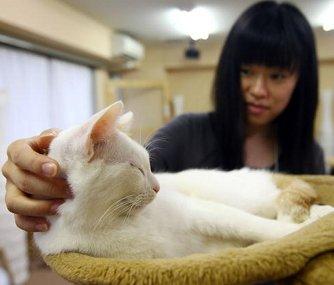 by Linda Lombardi, Vetstreet
In a culture where long work hours and small apartments are the norm, it can be hard to keep a pet. But feline aficionados in some Japanese cities have a novel alternative: the cat cafe.  
For an hourly fee, deprived cat lovers can hang out with kitties, read a magazine and have a cup of coffee in a comfortable, living room-like setting. 
Although there are customers of all ages, the majority are young people — most of whom live in apartments that don't allow pets — and some of these cafes have even morphed into popular date spots. 
Since the first cat cafe opened in the mid-2000s, they've exploded in popularity, with about 150 of them now in operation nationwide. 
Next Frontier: Cafes for Critters of All Kinds
The idea has expanded to other types of animals, the newest trend being rabbit cafes, with several opening recently in Tokyo. Even lovers of the less cuddly are beginning to get their chance: A reptile cafe has opened in Yokohama, featuring snakes, tortoises, geckos, bearded dragons and some newts thrown into the mix for amphibian admirers. 
These new cafes are a bit different from the cat versions, where felines wander freely. Rabbits are kept in cages and are only let out when customers come in for a cuddle. Many of the residents of the reptile cafe can't be touched by customers — they're on display, like at a zoo — but you can pet the tortoises (just be sure to wash your hands before and after). 
But even the cat cafes aren't a free-for-all. Most have specific rules when it comes to interacting with the animals. You're not allowed to hold or pet a cat against her will or wake a cat who's sleeping. And kittens who wear scarves are too young to be held. 
The owner of at least one rabbit cafe sees her mission as partly humanitarian. Rabbits have become a trendy pet in Japan, but people often don't educate themselves before buying bunnies, leading to an uptick in homeless pet rabbits. At the cafe, prospective owners can learn how to properly care for rabbits — and get the lowdown on what it really means to own one. 
Earlier Closing Times Could Mean Less Cuddle Time
Despite their cult popularity, starting June 1, a new revision of Japan's animal protection laws will force these cafes to shutter at 8 p.m. Owners and customers are in an uproar, since many patrons don't arrive until after work — right around 8 p.m. 
An editorial in the English-language
Japan Times
decries the new regulation, pointing out the educational value of the cafes in a country where euthanasia rates for abandoned pets are high — not to mention the mental health benefits of interacting with animals. As the writer laments, "excessive interference in the cafes means one less healthy, relaxing activity for a hardworking populace." 
What do you think? Are these cafes harmful to animals and should be banned? Or do you think there is an educational and cultural benefit to having them? Tell us in the comments below.
More from Vetstreet
Photo: Getty Images

Absolutely they are a huge educational and cultural benefit to the society and in no way should be shut down just as the population is getting off work and heading to these locations.  Also if not for these cafes, these poor kitties would be out in the cold, searching for food and their existence.  I suspect the owners of these cafes are experienced, loving and pet educated people, or they would not have rules for their patrons to follow to preserve the safety of the cats.  Regulators leave them alone and allow them to stay open for this valuable service to both man and animal!!
Are you sure you want to delete this comment?
pics, advice, info and stories for pet lovers
From designer crosses to giant breeds, we scoured Vetstreet's data of millions of dog breeds to determine the trendiest breeds of the past decade.

Tow lot employee finds abandoned pup.

Animals, says Dr. Patty Khuly, are the best listeners in the world and don't care that you've just been dumped or laid off.

With all the glitz and glamour that comes out of Tinseltown (not to mention the endless tabloid fodder), it's not always obvious that many celebrities are animal lovers, too.

"No! Bad dog!" How many times have you scolded your misbehaving canine with those words? Probably too many. But before you fly off the handle, one of the most important things to understand about correcting bad behavior is that punishment doesn't work.

Your dog loves sticking his head out the window, but imagine the tragic results of disregarding his (or your) safety.

Death is a natural part of life, but it's never easy to understand. Here are some tips when the time comes to talk to your kids about pets passing.

Are you a 'dog person' or 'cat person'?

Whether they're on small pups like the Pug or huge ones like the Mastiff, adorable wrinkles are the envy of many a dog lover — which is exactly why we set out in search of the canine world's most wrinkled breeds.

Adopting an animal is a major commitment. Yet all too often people put more effort into researching what kind of car to get than the type of pet that would best fit their lifestyle.

From certain species of butterflies, zebras to horses and cockatoos, you might be surprised that some of our favorite creatures are dying out.

Creating a cat-friendly home means incorporating elements that accommodate your cat's natural instincts to climb, scratch and rest. Why not look for furniture that gives kitty what she needs and offers function for you too?