Injured dog saved by police officers
Thousands raised for pup's surgery.
Earlier this month, three Los Angeles police officers stopped to help a 2-year-old pit bulland Shar Pei mix who'd been struck by a car. Officers Jennifer Cohen, Cindy Herrera and Valerie Lancaster drove the dog to a veterinarian, and where the injured dog had emergency surgery on a broken front leg and two fractured ribs.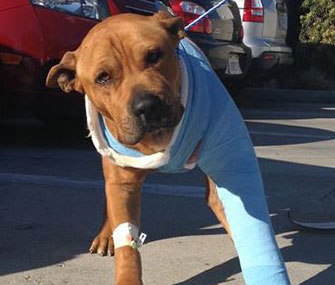 During the surgery, doctors found a microchip, but when the officers tracked down the dog's owner, she made it clear she didn't want him back.
The officers, who named the dog Philly for an LAPD sergeant, agreed to raise funds to pay for his surgery. In just a week, 740 people have donated more than $20,000 on Chipin.
Meanwhile, the officers are taking turns caring for Philly.
"We're his foster mommies now, basically," Cohen said. "We trade off every couple of days, so he'll be in different homes. He's great around kids, and we give him different environments so he is ready to go to his forever home."
— Read it at Today
More from Vetstreet:
Crime fighting toy poodle joins police force
Top 10 hottest dog names for 2013
Why does my cat… bit me when I pet her?
13 largest dog breeds: Towering and commanding
Photo: Facebook / Rescuing Philly / LAPD officers rescued Philly, who was hit by a car.
pics, advice, info and stories for pet lovers
Take a look at your house for these telltale signs that a cat is running the show.

Check out this list of requirements you should meet before getting a new puppy or adult dog.

Much like their famous owners, these pooches live a fabulous life. Some are rescues, others purebred, but one thing is certain – these dogs play an important part in their famous parents' lives. Can you guess who owns each of these dogs?

Pets are part of many children's lives. Learn how to help them foster strong, healthy relationships.

If you live with a feline companion, you know that cats can be quirky and totally entertaining. (Even if they'd never admit it in a million, trillion years.) Here are just a few of our favorite cat-isms, some with sandpaper tongue firmly in cheek. Did we miss any of yours?

Tummy troubles in your four-legged friends? Carrageenan in their pet food may be to blame.

There's more to choosing the perfect dog for your family than walking into a shelter and saying, "Find me one that looks like the dog from Marley and Me." Choosing a dog is more like buying a car. You want one that isn't just good looking, but is also a perfect fit for your family and lifestyle (and won't leak in the garage). Here are 8 great tips to help you determine the perfect pooch for your pack. By Jeremy Greenberg

CEO says, "it was one of the best ideas of my life"

Before you jump into marriage counseling, take a look at our list to see if you truly do love your dog more than your spouse.

Spring break isn't just for humans anymore. Cats and dogs know how to have fun in the sun, too, and would love to tag along on your vacation. In honor of the warm and relaxing days ahead, here are 15 pets catching some rays, going on hikes and floating in the pool.

Injuries often happen when dogs are outside chasing tennis balls or playing at dog parks. Because yours needs regular exercise, it can be difficult to protect him from many accidents.

When searching for the right dog to add to your family, your first instinct might be to bring home a tiny little thing that your kids can cradle in their laps. But we're here to remind you that the best dog for you may be a larger breed. Big dogs like Labrador Retrievers and Saint Bernards can become a child's protector, adventure buddy and best friend. Check out this slideshow to see nine large breeds that can be good for families.