Honorary feline mayor goes home after dog attack
Stubbs the cat still in a lot of pain.
RACHEL D'ORO, The Associated Press
ANCHORAGE, Alaska (AP) — Stubbs, the honorary feline mayor of an Alaska town, has recovered enough from severe injuries suffered in a dog mauling to be released from an animal hospital.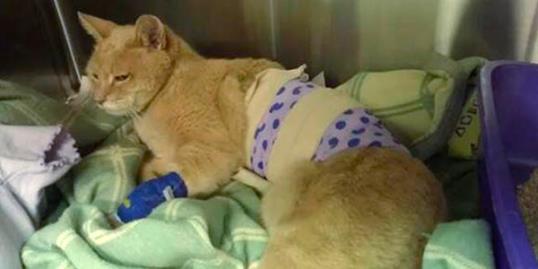 The 16-year-old cat's owner, Lauri Stec, drove to Wasilla to bring Stubbs home to Talkeetna on Monday. She said he's doing OK, but is still in a lot of pain and on a pain patch.
Stubbs lives at Nagley's General Store, and Stec is the manager there. She said for at least a few days, Stubbs will be cared for at a house connected to the back of the store and away from the hubbub. He'll have to be quiet for a couple of months.
But Stubbs is a social creature and getting on in years. Stec doesn't want him to get depressed, so she plans to move him back to the store in a few days. She'll keep him in his regular sleeping spot on top of a freezer that holds his bed: a dogsled piled with furs of fox, caribou, beaver and lynx.
"He'll be with his pals," Stec said of the furs.
Stubbs had been under veterinary care after being mauled by a loose dog in Talkeetna, 115 miles north of Anchorage. The Aug. 31 attack left Stubbs with a punctured lung, a fractured sternum, bruised hips and a deep gash on his side. Stec said she knows the dog that was involved and has reported the attack to borough animal-control officials.
The quirky community of 900 elected the buff tabby in a write-in campaign 15 years ago. There is no human mayor in the town, where Stubbs holds court at the store, greeting customers. He's also a known presence at the next-door pub, where he enjoys drinking water-catnip concoctions from a wine glass.
Stubbs was already popular but gained even more fans when news of the attack spread. People from all over the world have posted get-well messages on his Facebook page, which had almost 22,000 "likes" as of Monday afternoon.
At Nagley's General Store, two walls were covered with get-well cards and letters from all over, and visitors have been asking nonstop about Stubbs, store clerk Marco Cortez said. So his improving condition is good news. "Everybody's happy," he said.
Donations also are coming in from all over for Stubbs' care. Some of it will be given to an animal shelter in the region.
The attack on Stubbs was not the first strike on his nine lives. In the past, he has been shot by a BB gun, and still has a BB lodged inside. He's fallen onto a cold fryer vat and once rode on a garbage truck before jumping off.
More from Off the Leash:
'Superheroes' save cat from fire
Giraffe has 18th offspring
Soldiers reunited with 8 Afghan dogs
Friend us on Facebook, follow us on Twitter and find us on Pinterest.
Photo: Mayor Stubbs via Facebook, http://aka.ms/stubbs​mayorcat

pics, advice, info and stories for pet lovers
Adopting an animal is a major commitment. Yet all too often people put more effort into researching what kind of car to get than the type of pet that would best fit their lifestyle.

'Tis the season to send out holiday greeting cards to all your friends and family. But, as our friends at Awkward Family Pet Photos know, not all holiday snapshots are the same. Some are just plain kooky — especially when pets are included. So with good tidings and great cheer, here are 10 wacky holiday animal portraits that are sure to make you laugh out loud and get you in the holiday spirit. And possibly make you think twice about dressing up the family cat this year.

King of the jungle? Nah, it's just a labradoodle!

Do you have a finicky furry friend on your holiday gift list this year? You're in luck! We've rounded up the coolest cat-approved products to bring you purrfect gift ideas for every kind of cat -- from the curious kitten to the most refined feline. Any one of these special gifts could make your resident kitty purr with pleasure and maybe, just maybe, like the present this year even more than the box and wrapping paper it came in!

Plus, puppy names to watch

We asked 218 veterinary professionals to vote on the dog breeds and mixes that are not good choices for first-time pet parents. German Shepherds, Bulldogs and Akitas are among the breeds new pet owners should steer clear of.

"No! Bad dog!" How many times have you scolded your misbehaving canine with those words? Probably too many. But before you fly off the handle, one of the most important things to understand about correcting bad behavior is that punishment doesn't work.

If you have a hard time cruising through the toy aisle without loading up, you're not alone. But the good news is that there are tons of inexpensive dog toys that still deliver big fun. Check out our picks, and be sure to share in the comments if we left off your dog's favorite!

Sexy mice? Yes, they exist

Stray surprises subway passengers.

Newly cast cat will better match character from the book series, producer and author say.