White House comes out against breed bans
The American Staffordshire terrier, the bull terrier and the Rottweiler are frequent targets of breed-specific legislation.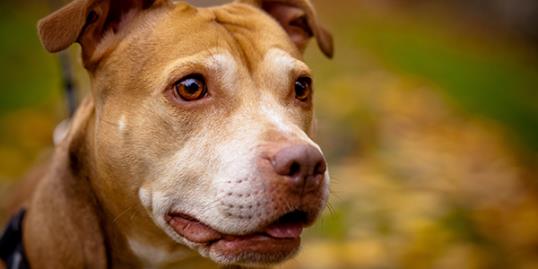 There's a new dog in the fight against controversial breed-specific legislation: the White House.
In response to a petition that's garnered more than 30,000 signatures from opponents of breed-specific legislation, the Obama administration recently issued an official statement: "We don't support breed-specific legislation. Research shows that bans on certain types of dogs are largely ineffective and often a waste of public resources."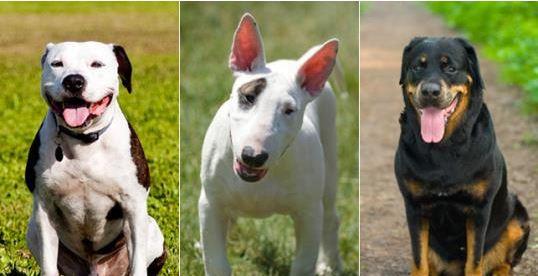 The memo points to a
report
by the Centers for Disease Control and Prevention, which, after studying 19 years of data on dog-bite-related deaths, recommends against bans on specific breeds. In the 238 fatalities it studied, "
pit-bull–type dogs
and
Rottweilers
were involved in more than half of these deaths." In spite of that alarming statistic, the study continues, fatal attacks represent such a small proportion of
dog-bite
incidents that these data "should not be the primary factor driving public policy concerning dangerous dogs."
A similar study by the American Veterinary Medical Association's Task Force on Canine Aggression and Human-Canine Interactions acknowledges the same issue: That even if statistics on dog-bite attacks could be assigned to certain breeds, local ordinances banning those breeds would essentially be impossible to enforce. Here's what that report says:
"Breed-specific ordinances imply that there is an objective method of determining the breed of a particular dog, when in fact, there is not at this time. Owners of mixed-breed dogs or dogs that have not been registered with a national kennel club have no way of knowing whether their dog is one of the types identified and whether they are required to comply with a breed-specific ordinance. In addition, law enforcement personnel typically have no scientific means for determining a dog's breed that can withstand the rigors of legal challenge, nor do they have a foolproof method for deciding whether owners are in compliance or in violation of laws. Such laws assume that all dogs of a certain breed are likely to bite, instead of acknowledging that most dogs are not a problem. These laws often fail to take normal dog behavior into account and may not assign appropriate responsibilities to owners."
The White House statement appeared on the
We the People
page, a platform that hosts petitions, which, if they generate enough responses, can elicit an official response from the policy experts at the White House.
Part of the response argues that breed bans won't deter the people who intentionally raise aggressive dogs; they'll just move on to a new breed that hasn't yet been regulated by their local laws. The most promising way to prevent dog bites, the memo contends, is through education and "a community-based approach."
That type of community-based approach — including education and providing incentives for spaying and neutering animals — is exactly what the ASPCA champions to help reduce dog-attack numbers.
"It was bold, and definitely sound, for the White House to make the statement that it did," Nancy Perry, the ASPCA's senior vice president for government relations, told Vetstreet. "When we hear strong, affirmative federal policy statements that make good sense, that are grounded in science, that demonstrate cost-effectiveness and humaneness, it's pretty hard for any community to ignore that."
What's more, Perry says, is that the unintended consequences of breed bans may cause formerly responsible owners to turn on the basic, fundamental standards of pet ownership. These people aren't just going to surrender their dogs — instead, they'll try to avoid detection by restricting their dog's outdoor exercise, avoiding microchipping and maybe even neglecting veterinary care.
"Trying to identify a breed by eyeballing that dog is incredibly reckless. Obviously many, many dogs are crossbreeds or multiple breeds, and it's very hard to differentiate between them just by looking at a dog, or even by the dog's behavior. Even genetic tests are questionable."
While proponents of breed-neutral legislation are sure to appreciate the Obama administration's statement, it's hardly the end of the story. The question remains: Will this lead to federal legislation against breed bans, trumping contentious laws in places such as Maryland, Denver and Miami? 
Says Perry: "We'll certainly be keeping our ear to the ground on that."

More From VetStreet:
6 "bull" dog breeds and the ties that bind them
12 dog breeds that bark A LOT
3 dangerous spiders you need to keep your pets away from
Why does my dog... lean on me?
3 bad things pet owners do that drive this veterinarian crazy

guy on the left must be excited to have his picture taken.  and by the way one of those Staffordshire moved in our neighborhood, wasn't even fully grown yet, and went after my dog (a 27 lb golden mix) and picked him up with his teeth by the back / skin while both were on a leash.  unfortunately my wife was the one walking our dog or I might've been able to grab him in time.
luckily needless to say my dog hates that dog and looks for him anytime he can, to bark his head off and give a piece of his mind.  I think most owners of these breeds don't know how to control their dogs or know their tendencies.  they also need to get them fixed, which helps with aggression and not to mention controling the pet population if they escape.
though I will say Spuds MacKenzie in the middle seems the most harmless.
Are you sure you want to delete this comment?
pics, advice, info and stories for pet lovers
Adopting an animal is a major commitment. Yet all too often people put more effort into researching what kind of car to get than the type of pet that would best fit their lifestyle.

'Tis the season to send out holiday greeting cards to all your friends and family. But, as our friends at Awkward Family Pet Photos know, not all holiday snapshots are the same. Some are just plain kooky — especially when pets are included. So with good tidings and great cheer, here are 10 wacky holiday animal portraits that are sure to make you laugh out loud and get you in the holiday spirit. And possibly make you think twice about dressing up the family cat this year.

King of the jungle? Nah, it's just a labradoodle!

Do you have a finicky furry friend on your holiday gift list this year? You're in luck! We've rounded up the coolest cat-approved products to bring you purrfect gift ideas for every kind of cat -- from the curious kitten to the most refined feline. Any one of these special gifts could make your resident kitty purr with pleasure and maybe, just maybe, like the present this year even more than the box and wrapping paper it came in!

Plus, puppy names to watch

We asked 218 veterinary professionals to vote on the dog breeds and mixes that are not good choices for first-time pet parents. German Shepherds, Bulldogs and Akitas are among the breeds new pet owners should steer clear of.

"No! Bad dog!" How many times have you scolded your misbehaving canine with those words? Probably too many. But before you fly off the handle, one of the most important things to understand about correcting bad behavior is that punishment doesn't work.

If you have a hard time cruising through the toy aisle without loading up, you're not alone. But the good news is that there are tons of inexpensive dog toys that still deliver big fun. Check out our picks, and be sure to share in the comments if we left off your dog's favorite!

Sexy mice? Yes, they exist

Stray surprises subway passengers.

Newly cast cat will better match character from the book series, producer and author say.