How to help animals affected by the Oklahoma tornado
When a massive tornado plowed through Moore, Okla., on Monday, it left at least two dozen people dead, schools and homes flattened and many pets and other animals displaced and injured.
There are plenty of agencies jumping in to help — bringing in search dogs, collecting food for animals and connecting lost pets with their loved ones.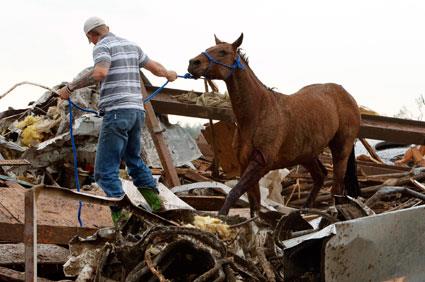 Vetstreet has compiled the information below for those who are in need of help and those who'd like to join the effort. If you'd like to help all victims, visit the Red Cross website or text the word DONATE to the Red Cross number (90999) to give $25 or text the word REDCROSS to the same number to give $10.
Donate Money, Food and Supplies
Search Dog Foundation: Based in California, this group is going into dangerous places to help rescue victims in Oklahoma. You can make a donation on its website.
Oklahoma City Animal Shelter: If you would like to donate for the animals, contact Cathryn English with the Oklahoma City Animal Shelter. It needs food, blankets, and towels right now, but it is best to call and ask first. Call (405) 297-3100 or (405) 297-3088.
Bing: See damages from the tornado
Pet Food Pantry of Oklahoma City: This nonprofit is accepting food donations and offering dog food, cat food, leashes, collars, food bowls and other supplies to those in need. Call (405) 664-2858.
Central Oklahoma Humane Society is in need of towels, paper towels, gloves and food for volunteers. Donations can be dropped off at either 5420 N. Classen Blvd., Oklahoma City, OK, or 2905 70th St. NW, Oklahoma City, OK. Visit its website to make a donation to its disaster relief fund.
Lost and Found Pets  
Animal Resource Center: If you find displaced animals, you can take them to the Animal Resource Center at 7949 S. I-35 Service Road, Oklahoma City, OK, 73149. The center is posting information on the pets it is caring for on its Facebook page. It is also offering displaced people shelter for the night. Call (405) 604-2892.
Annie's Ruff House is taking in dogs displaced by the storm. It's located at 1043 N. University Blvd., Norman, OK. Call (405) 310-3084.
The Edmond Sun Found Pets: The local newspaper is posting descriptions of animals who have been found and are seeking their owners.
OKC Lost Pets: This website was set up specifically to respond to this disaster. It is a virtual bulletin board for those who have lost or found pets.
Moore Oklahoma Tornado Lost and Found Animals: Nearly 4,000 people are following this Facebook page, where you can post about lost and found pets.
McClain County Animal Response Team is posting information on lost and found animals on its Facebook page. Contact Donnell Weatherall at (405) 301-7904 for animal rescuing and sheltering.
Oklahoma Animal Lost and Found Tornado Group is a Facebook group for sharing information on lost and found pets.
Resource for Displaced Horses: Yvette Fees has offered to take in displaced horses; She lives in the Moore area but was not impacted by the tornado. She has a trailer and can assist in transporting horses to her property. She can be reached at (405) 589-0883 or at yvettefees@aol.com.
1 Day Ranch: The owner of this rescue is headed to Moore and says it can help with dogs, horses and other small livestock. It also has some first aid items for animals who've sustained injuries, and can help with transport if needed. Please contact Maeghan at (405) 226-1946 if you need any help.
Wildlife Ambassadors is offering temporary shelter for exotic animals (birds, ferrets, reptiles) at their USDA licensed facility. Call 405-426-5642 or 405-863-7614.
Veterinarian Triage Areas and Clinics
Penn South Pet Clinic is a veterinary clinic that's taking in lost pets.
Update: The triage area that was set up at Home Depot in Moore on Monday has been moved. Veterinary personnel are now offering care at the Cleveland County Fairgrounds in Norman. The address is 615 E. Robinson, Norman, OK 73071.
As the situation continues to change in Moore, there will likely be more groups offering help, and we want to get the word out. Please share any additional information in the comments below.
And for veterinarian-approve​d advice on caring for pets during natural disasters and other emergencies, please visit our disaster preparedness page.
More from Vetstreet:
Elderly tornado victim reunites with her dog live during TV interview
20 trendiest dog breeds
10 emergency preparedness tips every pet owner should know
Want a dog that stays puppylike for life?
The No. 1 rule of being a cat is…
Photo: Steve Sisney, The Oklahoman / AP / A horse is rescued from the rubble of a barn that was destroyed during the massive tornado that hit Moore, Okla., on Monday.
pics, advice, info and stories for pet lovers
The strong bonds that dogs can form are undeniable.

Think you know your pet's every unspoken wish? Think again. Your pet is unlikely to be capable of communicating her wants and needs in ways you might assume she would. Even those of you most in touch with your pets' feelings are likely missing a few cues here and there.

The Chesapeake Bay Retriever made both our readers' and veterinary professionals' lists of breeds that love the water.

You might proudly call yourself a dog owner, pet parent or canine guardian, but let's be real: Your dog owns you. You might be laughing now, but think about it — you've surrendered the best seat on the sofa to him, you plan your entire weekend around his trips to the dog park, and you take him to the groomer more often than you get your own hair cut. And let's not forget who's in every photo on your Facebook and Instagram feeds. Sound familiar? We thought so. But in case you still think you're in charge, here are seven classic signs that your dog is the one calling the shots.

One of the best things about being a veterinarian is all the different dogs I get to meet. Of course, I love the Labs and Beagles and Boxers and Poodles, not to mention those crazy Canine Cocktails, or what my parents used to call Heinz 57s. They are among the more popular dogs out there, and I see a lot of them. In fact, it used to be that it was rare to see anything else. Here are nine dog breeds I sometimes see now that I didn't see in the past.

We asked veterinary experts and readers which breeds they think and if it is OK to shave longhaired pets in the summer.

If you're searching for a breed that may enjoy the company of a kid, we have some great suggestions for you.

When searching for the right dog to add to your family, your first instinct might be to bring home a tiny little thing that your kids can cradle in their laps. But we're here to remind you that the best fit for you may be a large dog breed.

Many breeds were developed to do work that required them to act independently. Those dogs tend to be smart, but as family pets, they may need more leadership and training than others. Ultimately, though, they're worth it. Here are 11 dog breeds that tend to have independent personalities.

Many of us here at Vetstreet are fascinated by pets who have unique coats and cool shapes hidden in their markings. So we asked our Facebook fans to share pictures of animals that have interesting coloration, and you did not disappoint. From mustachioed cats to a horse of a different color, here are our 13 favorite photos of pets with cool coats.

We surveyed 284 veterinary professionals (including vets, veterinary technicians and office staff) to see which breeds they felt were most likely to chew something they shouldn't and wind up in the veterinary emergency room, and we've listed the top five answers below. Do you agree with their opinions? Which breeds would you add to the list?

This Fourth of July, Americans will celebrate with the sights and sounds of fireworks. While we love the pyrotechnics, it's important to remember that our patriotic midsummer spectacular is no holiday for many of our pets.