How to help animals affected by the Oklahoma tornado
When a massive tornado plowed through Moore, Okla., on Monday, it left at least two dozen people dead, schools and homes flattened and many pets and other animals displaced and injured.
There are plenty of agencies jumping in to help — bringing in search dogs, collecting food for animals and connecting lost pets with their loved ones.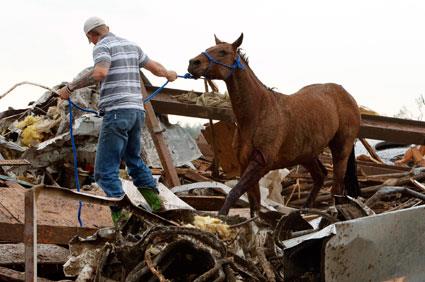 Vetstreet has compiled the information below for those who are in need of help and those who'd like to join the effort. If you'd like to help all victims, visit the Red Cross website or text the word DONATE to the Red Cross number (90999) to give $25 or text the word REDCROSS to the same number to give $10.
Donate Money, Food and Supplies
Search Dog Foundation: Based in California, this group is going into dangerous places to help rescue victims in Oklahoma. You can make a donation on its website.
Oklahoma City Animal Shelter: If you would like to donate for the animals, contact Cathryn English with the Oklahoma City Animal Shelter. It needs food, blankets, and towels right now, but it is best to call and ask first. Call (405) 297-3100 or (405) 297-3088.
Bing: See damages from the tornado
Pet Food Pantry of Oklahoma City: This nonprofit is accepting food donations and offering dog food, cat food, leashes, collars, food bowls and other supplies to those in need. Call (405) 664-2858.
Central Oklahoma Humane Society is in need of towels, paper towels, gloves and food for volunteers. Donations can be dropped off at either 5420 N. Classen Blvd., Oklahoma City, OK, or 2905 70th St. NW, Oklahoma City, OK. Visit its website to make a donation to its disaster relief fund.
Lost and Found Pets  
Animal Resource Center: If you find displaced animals, you can take them to the Animal Resource Center at 7949 S. I-35 Service Road, Oklahoma City, OK, 73149. The center is posting information on the pets it is caring for on its Facebook page. It is also offering displaced people shelter for the night. Call (405) 604-2892.
Annie's Ruff House is taking in dogs displaced by the storm. It's located at 1043 N. University Blvd., Norman, OK. Call (405) 310-3084.
The Edmond Sun Found Pets: The local newspaper is posting descriptions of animals who have been found and are seeking their owners.
OKC Lost Pets: This website was set up specifically to respond to this disaster. It is a virtual bulletin board for those who have lost or found pets.
Moore Oklahoma Tornado Lost and Found Animals: Nearly 4,000 people are following this Facebook page, where you can post about lost and found pets.
McClain County Animal Response Team is posting information on lost and found animals on its Facebook page. Contact Donnell Weatherall at (405) 301-7904 for animal rescuing and sheltering.
Oklahoma Animal Lost and Found Tornado Group is a Facebook group for sharing information on lost and found pets.
Resource for Displaced Horses: Yvette Fees has offered to take in displaced horses; She lives in the Moore area but was not impacted by the tornado. She has a trailer and can assist in transporting horses to her property. She can be reached at (405) 589-0883 or at yvettefees@aol.com.
1 Day Ranch: The owner of this rescue is headed to Moore and says it can help with dogs, horses and other small livestock. It also has some first aid items for animals who've sustained injuries, and can help with transport if needed. Please contact Maeghan at (405) 226-1946 if you need any help.
Wildlife Ambassadors is offering temporary shelter for exotic animals (birds, ferrets, reptiles) at their USDA licensed facility. Call 405-426-5642 or 405-863-7614.
Veterinarian Triage Areas and Clinics
Penn South Pet Clinic is a veterinary clinic that's taking in lost pets.
Update: The triage area that was set up at Home Depot in Moore on Monday has been moved. Veterinary personnel are now offering care at the Cleveland County Fairgrounds in Norman. The address is 615 E. Robinson, Norman, OK 73071.
As the situation continues to change in Moore, there will likely be more groups offering help, and we want to get the word out. Please share any additional information in the comments below.
And for veterinarian-approve​d advice on caring for pets during natural disasters and other emergencies, please visit our disaster preparedness page.
More from Vetstreet:
Elderly tornado victim reunites with her dog live during TV interview
20 trendiest dog breeds
10 emergency preparedness tips every pet owner should know
Want a dog that stays puppylike for life?
The No. 1 rule of being a cat is…
Photo: Steve Sisney, The Oklahoman / AP / A horse is rescued from the rubble of a barn that was destroyed during the massive tornado that hit Moore, Okla., on Monday.
pics, advice, info and stories for pet lovers
Adopting an animal is a major commitment. Yet all too often people put more effort into researching what kind of car to get than the type of pet that would best fit their lifestyle.

'Tis the season to send out holiday greeting cards to all your friends and family. But, as our friends at Awkward Family Pet Photos know, not all holiday snapshots are the same. Some are just plain kooky — especially when pets are included. So with good tidings and great cheer, here are 10 wacky holiday animal portraits that are sure to make you laugh out loud and get you in the holiday spirit. And possibly make you think twice about dressing up the family cat this year.

King of the jungle? Nah, it's just a labradoodle!

Do you have a finicky furry friend on your holiday gift list this year? You're in luck! We've rounded up the coolest cat-approved products to bring you purrfect gift ideas for every kind of cat -- from the curious kitten to the most refined feline. Any one of these special gifts could make your resident kitty purr with pleasure and maybe, just maybe, like the present this year even more than the box and wrapping paper it came in!

Plus, puppy names to watch

We asked 218 veterinary professionals to vote on the dog breeds and mixes that are not good choices for first-time pet parents. German Shepherds, Bulldogs and Akitas are among the breeds new pet owners should steer clear of.

"No! Bad dog!" How many times have you scolded your misbehaving canine with those words? Probably too many. But before you fly off the handle, one of the most important things to understand about correcting bad behavior is that punishment doesn't work.

If you have a hard time cruising through the toy aisle without loading up, you're not alone. But the good news is that there are tons of inexpensive dog toys that still deliver big fun. Check out our picks, and be sure to share in the comments if we left off your dog's favorite!

Sexy mice? Yes, they exist

Stray surprises subway passengers.

Newly cast cat will better match character from the book series, producer and author say.