How to help animals affected by the Oklahoma tornado
When a massive tornado plowed through Moore, Okla., on Monday, it left at least two dozen people dead, schools and homes flattened and many pets and other animals displaced and injured.
There are plenty of agencies jumping in to help — bringing in search dogs, collecting food for animals and connecting lost pets with their loved ones.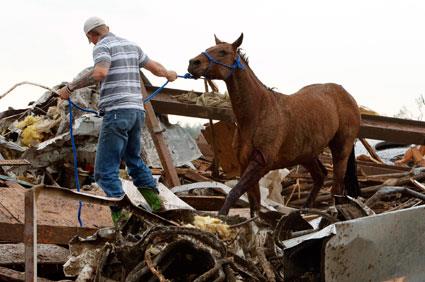 Vetstreet has compiled the information below for those who are in need of help and those who'd like to join the effort. If you'd like to help all victims, visit the Red Cross website or text the word DONATE to the Red Cross number (90999) to give $25 or text the word REDCROSS to the same number to give $10.
Donate Money, Food and Supplies
Search Dog Foundation: Based in California, this group is going into dangerous places to help rescue victims in Oklahoma. You can make a donation on its website.
Oklahoma City Animal Shelter: If you would like to donate for the animals, contact Cathryn English with the Oklahoma City Animal Shelter. It needs food, blankets, and towels right now, but it is best to call and ask first. Call (405) 297-3100 or (405) 297-3088.
Bing: See damages from the tornado
Pet Food Pantry of Oklahoma City: This nonprofit is accepting food donations and offering dog food, cat food, leashes, collars, food bowls and other supplies to those in need. Call (405) 664-2858.
Central Oklahoma Humane Society is in need of towels, paper towels, gloves and food for volunteers. Donations can be dropped off at either 5420 N. Classen Blvd., Oklahoma City, OK, or 2905 70th St. NW, Oklahoma City, OK. Visit its website to make a donation to its disaster relief fund.
Lost and Found Pets  
Animal Resource Center: If you find displaced animals, you can take them to the Animal Resource Center at 7949 S. I-35 Service Road, Oklahoma City, OK, 73149. The center is posting information on the pets it is caring for on its Facebook page. It is also offering displaced people shelter for the night. Call (405) 604-2892.
Annie's Ruff House is taking in dogs displaced by the storm. It's located at 1043 N. University Blvd., Norman, OK. Call (405) 310-3084.
The Edmond Sun Found Pets: The local newspaper is posting descriptions of animals who have been found and are seeking their owners.
OKC Lost Pets: This website was set up specifically to respond to this disaster. It is a virtual bulletin board for those who have lost or found pets.
Moore Oklahoma Tornado Lost and Found Animals: Nearly 4,000 people are following this Facebook page, where you can post about lost and found pets.
McClain County Animal Response Team is posting information on lost and found animals on its Facebook page. Contact Donnell Weatherall at (405) 301-7904 for animal rescuing and sheltering.
Oklahoma Animal Lost and Found Tornado Group is a Facebook group for sharing information on lost and found pets.
Resource for Displaced Horses: Yvette Fees has offered to take in displaced horses; She lives in the Moore area but was not impacted by the tornado. She has a trailer and can assist in transporting horses to her property. She can be reached at (405) 589-0883 or at yvettefees@aol.com.
1 Day Ranch: The owner of this rescue is headed to Moore and says it can help with dogs, horses and other small livestock. It also has some first aid items for animals who've sustained injuries, and can help with transport if needed. Please contact Maeghan at (405) 226-1946 if you need any help.
Wildlife Ambassadors is offering temporary shelter for exotic animals (birds, ferrets, reptiles) at their USDA licensed facility. Call 405-426-5642 or 405-863-7614.
Veterinarian Triage Areas and Clinics
Penn South Pet Clinic is a veterinary clinic that's taking in lost pets.
Update: The triage area that was set up at Home Depot in Moore on Monday has been moved. Veterinary personnel are now offering care at the Cleveland County Fairgrounds in Norman. The address is 615 E. Robinson, Norman, OK 73071.
As the situation continues to change in Moore, there will likely be more groups offering help, and we want to get the word out. Please share any additional information in the comments below.
And for veterinarian-approve​d advice on caring for pets during natural disasters and other emergencies, please visit our disaster preparedness page.
More from Vetstreet:
Elderly tornado victim reunites with her dog live during TV interview
20 trendiest dog breeds
10 emergency preparedness tips every pet owner should know
Want a dog that stays puppylike for life?
The No. 1 rule of being a cat is…
Photo: Steve Sisney, The Oklahoman / AP / A horse is rescued from the rubble of a barn that was destroyed during the massive tornado that hit Moore, Okla., on Monday.
pics, advice, info and stories for pet lovers
Computer equipment delivery came with two cute stowaways.

Take a look at your house for these telltale signs that a cat is running the show.

Check out this list of requirements you should meet before getting a new puppy or adult dog.

Much like their famous owners, these pooches live a fabulous life. Some are rescues, others purebred, but one thing is certain – these dogs play an important part in their famous parents' lives. Can you guess who owns each of these dogs?

Pets are part of many children's lives. Learn how to help them foster strong, healthy relationships.

If you live with a feline companion, you know that cats can be quirky and totally entertaining. (Even if they'd never admit it in a million, trillion years.) Here are just a few of our favorite cat-isms, some with sandpaper tongue firmly in cheek. Did we miss any of yours?

Tummy troubles in your four-legged friends? Carrageenan in their pet food may be to blame.

There's more to choosing the perfect dog for your family than walking into a shelter and saying, "Find me one that looks like the dog from Marley and Me." Choosing a dog is more like buying a car. You want one that isn't just good looking, but is also a perfect fit for your family and lifestyle (and won't leak in the garage). Here are 8 great tips to help you determine the perfect pooch for your pack. By Jeremy Greenberg

CEO says, "it was one of the best ideas of my life"

Before you jump into marriage counseling, take a look at our list to see if you truly do love your dog more than your spouse.

Spring break isn't just for humans anymore. Cats and dogs know how to have fun in the sun, too, and would love to tag along on your vacation. In honor of the warm and relaxing days ahead, here are 15 pets catching some rays, going on hikes and floating in the pool.

Injuries often happen when dogs are outside chasing tennis balls or playing at dog parks. Because yours needs regular exercise, it can be difficult to protect him from many accidents.