Dog accidently travels to Ireland
A 6-year-old English Springer Spaniel named Hendrix was meant to land in Phoenix but was put on the wrong flight.
Last week, Edith Lombardo-Albach brought her daughter's 6-year-old English Springer Spaniel, Hendrix, to Newark International Airport to board a flight to Phoenix, Ariz.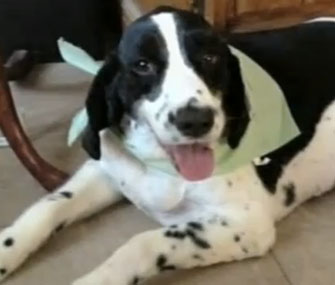 Lombardo-Albach's family is moving from Staten Island, N.Y., to Arizona, and Hendrix was going to be met by his owner, Meredith Grant, at the Phoenix airport. But just as the plane was due to arrive, Lombardo-Albach got a call from United Airlines, saying that the dog had mistakenly been put on a flight to Ireland.
"I almost fainted," Lombardo-Albach said, according to PawNation.
The poor pup had to fly back to New Jersey, and then on to his destination. The airline is "reviewing the circumstances surrounding the situation," and offered the family a full refund for Hendrix's $450 flight, said United spokesperson Megan McCarthy.
— Read it at NBC News and watch it at KNXV via YouTube
More from Vetstreet:
10 animals from Ireland to love
What are the odds of finding my lost pet?
Must-know tips for traveling with your dog
5 best dogs for your golden years
Why does my dog… like having his belly rubbed?
Bing: How to travel with your dog on a plane.
Photo: KNXV via YouTube / Hendrix is recovering from his extra-long journey to Arizona.
pics, advice, info and stories for pet lovers
What is the best route to follow should your pet bite one of your guests or run off and nip an innocent bystander?

Tiny Terrier rescued from traffic in Texas.

Shaved legs, trimmed mustaches and long, luxurious coats — sometimes we think the Westminster Dog Show, which airs Monday and Tuesday, is like a red-carpet event for unusual-looking breeds.

February 14 isn't just a day to shower the special human in your life with chocolates and roses. It's also important to do something special for the one member in your family who loves you unconditionally — your pet. In honor of how much we love all things furry, feathered and four-legged, we rounded up our favorite cats and dogs celebrating Valentine's Day.

Here are nine fundamental steps for taking care of your new kitten.

Only 35 of its kind exist in the U.S.