Man, dog join forces for new breed of philanthropy
Lucky becomes millionaire's sidekick and soul mate.
LOS ANGELES (AP) — When Charlie Annenberg adopted an abandoned golden retriever named Lucky, a new breed of philanthropy was born.
Lucky was 4 in 2001 when he teamed up with Annenberg, scion to a wealthy family known for giving money away.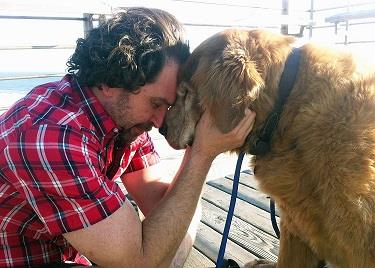 Photo: Philanthropist Charlie Annenberg nuzzles his golden retriever, Lucky, at Pipeline Beach in Haleiwa, Hawaii, in 2010. (AP Photo/Explore.org)
The 46-year-old Annenberg incorporated Lucky into all his projects. They were on the road more than they were at home as they traveled around making documentaries about people who were making a difference.
Bing: Average life span of dogs?
Lucky became Annenberg's sidekick and soul mate and would eventually inspire donations to dog-focused causes from the millions of dollars the philanthropist controls annually.
Whether it was a chef at the White House or coal miners 100 feet underground in West Virginia, Lucky made documentary interviews easy because he made everyone so comfortable. In each small town and big city, the man and dog would make unannounced stops at a retirement home, where Lucky would steal the show.
The workload for both grew with explore.org. Using state-of-the-art cameras, Annenberg brought wildlife – bears and bees and beluga whales – to stunning life for millions of Web watchers. Everywhere they went, Annenberg filmed Lucky interacting with people and places.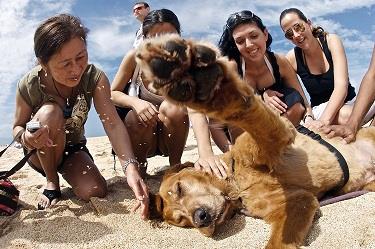 Photo: Philanthropist Charlie Annenberg's golden retriever, Lucky, at Pipeline Beach in Haleiwa, Hawaii, in 2010. (AP Photo/Explore.org)
At the Delta Blues Museum in Mississippi, Annenberg cut a harmonica-backed, spontaneous freestyle jazz tribute to Lucky. "It doesn't matter what color your skin, man or woman, fat or thin. He loves them all, every day. His name is Lucky and he's my friend."
In 2010, Annenberg decided to use his Lucky photos and films for a travel journal on Facebook, telling the story of their trips.
Bing: Most popular dog breeds
Annenberg called the journal Dog Bless You, he said, because several years earlier Lucky had befriended a homeless man in San Francisco. They shared time and a sandwich with the man. As they were leaving, the man said: "Dog bless you."
The Facebook page was all about Lucky, but it captured the fervor for pets that was growing around the country. "Today we have an audience of 505,000 fans," said Courtney Johnson, explore.org's community relations manager.
When an earthquake and tsunami struck Japan in 2011, killing more than 18,000 people, Annenberg used Dog Bless You to send six search dogs.
Then war veterans started returning home in large numbers, with post-traumatic stress disorder and wounds including brain injuries.
Passion for the cause on Dog Bless You soared. Dogs cost between $2,000 and $50,000 each, depending on how much training they need, Johnson said.
Annenberg, grandson of the late publisher, ambassador and philanthropist Walter H. Annenberg, is a vice president and director of the grant-making Annenberg Foundation. He gives away up to $8 million a year.
In just three years, he has donated 170 guide dogs, search-and-rescue dogs and service dogs for veterans. Most of the dogs funded by Annenberg have been for veterans. Because there are waiting lists at almost every training school, and experts say thousands of veterans would benefit from a dog. Annenberg plans to accelerate the dog grant program.
Warrior Canine Connection in Brookeville, Md., is just one of the dog-training schools Annenberg uses, but it's also one of the most unusual because dogs are raised for, by and with veterans.
The latest group of nine puppies is even named after veterans, said Warrior Canine executive director Rick Yount. Called the "honor litter," they are Bre, Luke, Gavin, Leigh Ann, Derek, Nick, Florence, Cody and Stanley.
"It's a good way to say, 'We are not forgetting about your sacrifices.' And they (the namesakes) get to spend time with the puppies and get therapy themselves," Yount said.
Trained veterans teach the puppies for the first eight to 12 weeks. Then the dogs go to live with volunteers from military or veterans organizations. "By the time a dog is fully trained, over 500 vets and service members have been involved in getting it ready," Yount said.
"Hearing the stories of how these dogs help bring their humans out of the darkness is incredible. In some instances, having the companionship of a dog is what motivates them to keep going. It gives them a purpose and reason to get up in the morning," said Dog Bless You fan Rachel Nelken of Vancouver, British Columbia.
As Lucky aged and slowed down, the format of Dog Bless You changed, becoming a tribute to every dog. And Lucky had to retire from traveling.
Annenberg misses Lucky at work. "He was my partner on all these trips," he said. "It's not the same. He would open the door and make me look good. People always stopped and petted him. Everyone wanted to keep Lucky, especially the coal miners. Isn't it interesting that every day was a new day for Lucky? And he just wanted to be petted? It's been a great ride."
More from Off the Leash:
Puppy sees again after surgery
Dogs rescued from alleged fighting ring
Cat burglar steals from neighbors
Friend us on Facebook, follow us on Twitter and find us on Pinterest.
Are you sure you want to delete this comment?
pics, advice, info and stories for pet lovers
Adopting an animal is a major commitment. Yet all too often people put more effort into researching what kind of car to get than the type of pet that would best fit their lifestyle.

'Tis the season to send out holiday greeting cards to all your friends and family. But, as our friends at Awkward Family Pet Photos know, not all holiday snapshots are the same. Some are just plain kooky — especially when pets are included. So with good tidings and great cheer, here are 10 wacky holiday animal portraits that are sure to make you laugh out loud and get you in the holiday spirit. And possibly make you think twice about dressing up the family cat this year.

King of the jungle? Nah, it's just a labradoodle!

Do you have a finicky furry friend on your holiday gift list this year? You're in luck! We've rounded up the coolest cat-approved products to bring you purrfect gift ideas for every kind of cat -- from the curious kitten to the most refined feline. Any one of these special gifts could make your resident kitty purr with pleasure and maybe, just maybe, like the present this year even more than the box and wrapping paper it came in!

Plus, puppy names to watch

We asked 218 veterinary professionals to vote on the dog breeds and mixes that are not good choices for first-time pet parents. German Shepherds, Bulldogs and Akitas are among the breeds new pet owners should steer clear of.

"No! Bad dog!" How many times have you scolded your misbehaving canine with those words? Probably too many. But before you fly off the handle, one of the most important things to understand about correcting bad behavior is that punishment doesn't work.

If you have a hard time cruising through the toy aisle without loading up, you're not alone. But the good news is that there are tons of inexpensive dog toys that still deliver big fun. Check out our picks, and be sure to share in the comments if we left off your dog's favorite!

Sexy mice? Yes, they exist

Stray surprises subway passengers.

Newly cast cat will better match character from the book series, producer and author say.