2 new breeds make their National Dog Show debut
The additions brings the number of breeds at the 2012 competition to 187.
By Shayna Meliker
As you watch the National Dog Show this Thursday, keep an eye out for two fresh faces making their competition debuts this year.
The addition of the Russell Terrier and the Treeing Walker Coonhound brings the number of breeds at the 2012 competition to 187. Fun fact: That's 28 more breeds than there were when the first National Dog Show aired on NBC a decade ago.
The Russell Terrier
The small and confident Russell Terrier excels at vermin hunting, much like many of her terrier relatives. You may know her by her more colloquial name: the Jack Russell Terrier.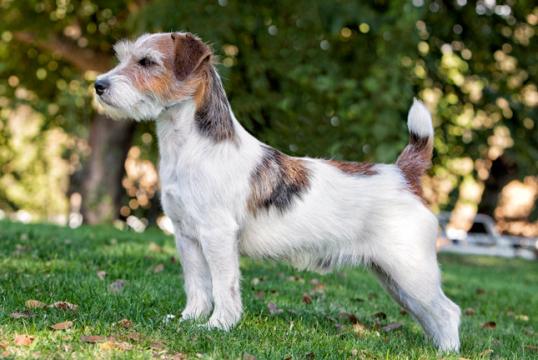 Photo: Courtesy of the National Dog Show
She's very similar to the Parson Russell Terrier, who was first recognized by the American Kennel Club in 1997. But the two dogs are different in body structure and height (the Russell Terrier has shorter legs), so American and European kennel clubs consider them to be separate breeds.
According to the AKC, "[T]he breed's handy size, small flexible chest, nose, strong voice and fearless nature make it an excellent specimen to work vermin below ground."
The Treeing Walker Coonhound
The Treeing Walker Coonhound is the fourth coonhound to win full AKC recognition in the past three years. As his name implies, this competitive canine was bred to track and tree wild raccoons.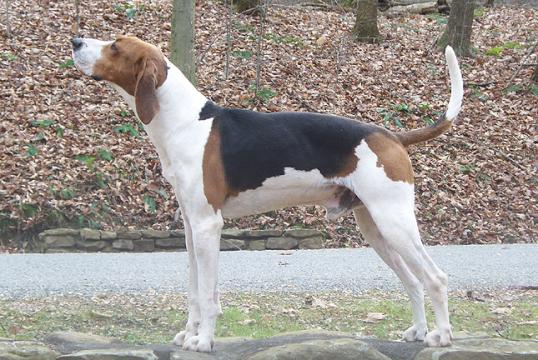 Photo: Courtesy of the National Dog Show
He has a glossy, tricolored coat that's dense enough for protection. The AKC describes this breed as "a fast, sensible hunter that locates its quarry quickly and has superb endurance and treeing ability."
Amanda Alexander of Homer City, Pa., showed her Treeing Walker Coonhound, Xcetera, at this year's National Dog Show. She has all six breeds of coonhound, and says that the Treeing Walker is, by far, the best hunter.
"I'm very excited for them to finally be recognized," she said at the show. "It's been long overdue. This is the most popular breed of the coonhound, so it's strange that it took that long for them to finally get in, but we're happy. We can't complain. We're glad to at least be in here now."
Bing: The latest on the National Dog Show
More from Vetstreet:
5 dogs breeds that are sadly losing popularity
Want a large, gentle dog? Then this breed is for you
Why does my neutered dog still hump things?
Teen busted for marijuana thanks to dog's vet exam
12 best couch potato dog breeds
pics, advice, info and stories for pet lovers
Tow lot employee finds abandoned pup.

Animals, says Dr. Patty Khuly, are the best listeners in the world and don't care that you've just been dumped or laid off.

With all the glitz and glamour that comes out of Tinseltown (not to mention the endless tabloid fodder), it's not always obvious that many celebrities are animal lovers, too.

"No! Bad dog!" How many times have you scolded your misbehaving canine with those words? Probably too many. But before you fly off the handle, one of the most important things to understand about correcting bad behavior is that punishment doesn't work.

Your dog loves sticking his head out the window, but imagine the tragic results of disregarding his (or your) safety.

Death is a natural part of life, but it's never easy to understand. Here are some tips when the time comes to talk to your kids about pets passing.

Are you a 'dog person' or 'cat person'?

Whether they're on small pups like the Pug or huge ones like the Mastiff, adorable wrinkles are the envy of many a dog lover — which is exactly why we set out in search of the canine world's most wrinkled breeds.

Adopting an animal is a major commitment. Yet all too often people put more effort into researching what kind of car to get than the type of pet that would best fit their lifestyle.

From certain species of butterflies, zebras to horses and cockatoos, you might be surprised that some of our favorite creatures are dying out.

Creating a cat-friendly home means incorporating elements that accommodate your cat's natural instincts to climb, scratch and rest. Why not look for furniture that gives kitty what she needs and offers function for you too?

You may not realize that these are toxic to your critters - keep your pets away from these household plants.