Cat survives 80-foot fall
After eight days in tree, lucky kitty lands on her feet.
A 2-year-old kitty in Marion, Mass., has had a harrowing start to the new year. Firefighters tried three times to rescue her from the tree that she'd been stuck in for eight days before she fell 80 feet from her perch on Sunday — and then took off into the brush.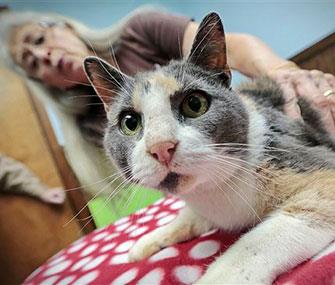 Pam Robinson, founder of a local pet shelter called It's All About the Animals, finally caught her on Tuesday, named her Fortunate, and brought her to the Marion Animal Hospital to be checked out.
"I don't see anything wrong with this cat; it's unbelievable," said veterinarian Dr. Rachel Francis, who examined her. "She's certainly a survivor."
Bing: More cat rescue stories.
Robinson and Francis said they believe the skittish but affectionate cat, who had a few pulled muscles and a possible parasitic infection, was once someone's pet.
After she recovers, Fortunate will be put up for adoption.
— Read it at Massachusetts' Sea Coast Today
Photo: AP // Fortunate survived an 80-foot fall from a tree.
More from Vetstreet:
Blind dog gets help from a guide cat
My dog has a gay tail – What does this mean?
Cat helps baby learn English
Why does my cat meow at me?
Top 10 kitten names of the year
pics, advice, info and stories for pet lovers
This year, Animal Planet is pulling out all the stops for Puppy Bowl X. The tenth-anniversary extravaganza promises penguin cheerleaders, canine first responders singing the National Anthem, and special appearances by Lil Bub and Keyboard Cat, who will be performing a piano-filled rendition of Bruno Mars' "Locked Out of Heaven" during the kitten halftime show. Best of all, continuing the tradition of showcasing adoptable pets, all the puppy players are up for adoption or have already found forever families. We're hoping that the pups are watching themselves on TV from the comfort of their new homes. The main event starts at 3 p.m. EST on February 2 on Animal Planet. As you wait for the most anticipated event of the season, check out the starting lineup of some of our favorite Puppy Bowl players. And be sure to head to the Animal Planet site later this month to create your own Puppy Bowl fantasy league. Out of 11 all-star puppies, participants will be able to pick a fantasy team of three players.

Walter the otter is settling into his new home

We recently listed the top five smartest dog breeds as chosen by veterinary professionals, and, unsurprisingly, our readers were quick to comment on other breeds that show enormous intelligence. Now we're sharing another result from that survey of 122 veterinary professionals. We aren't going to say "least intelligent" because all dogs have their own kind of genius, right? But we will say that in the opinion of the surveyed veterinary professionals, the breeds named here aren't necessarily known for their cleverness even if they are known for having many wonderful characteristics. Of course, please know that in no way are we saying these dogs aren't smart or aren't trainable. They just might not keep up with the Border Collie in their obedience class. And that's OK — whether our pets sit at the front of the class or flunk out of puppy school, we love them just the same.

Typically, cats don't rush up and bombard you with kisses like some dogs, but many do display genuine friendliness. Happy-to-be-with-you cats range from the demure lap lounger to the chatty feline who escorts you from room to room. Vetstreet shines the spotlight on nine feline breeds with stellar reputations for thoroughly enjoying the company of their favorite people.

Do you find it hard to sit still? Would you rather spend your time running and playing and working outdoors instead of lounging at home on the couch? If so, you may have met your match in these breeds. We polled 122 veterinary experts to get their opinions on which dog breeds are the most energetic. Here are the five that received the most votes!

Are cats an acquired taste?