Cat survives 80-foot fall
After eight days in tree, lucky kitty lands on her feet.
A 2-year-old kitty in Marion, Mass., has had a harrowing start to the new year. Firefighters tried three times to rescue her from the tree that she'd been stuck in for eight days before she fell 80 feet from her perch on Sunday — and then took off into the brush.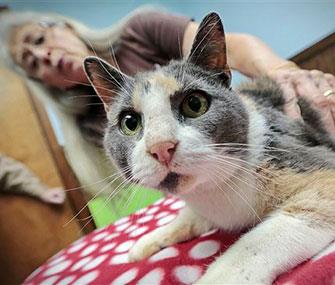 Pam Robinson, founder of a local pet shelter called It's All About the Animals, finally caught her on Tuesday, named her Fortunate, and brought her to the Marion Animal Hospital to be checked out.
"I don't see anything wrong with this cat; it's unbelievable," said veterinarian Dr. Rachel Francis, who examined her. "She's certainly a survivor."
Bing: More cat rescue stories.
Robinson and Francis said they believe the skittish but affectionate cat, who had a few pulled muscles and a possible parasitic infection, was once someone's pet.
After she recovers, Fortunate will be put up for adoption.
— Read it at Massachusetts' Sea Coast Today
Photo: AP // Fortunate survived an 80-foot fall from a tree.
More from Vetstreet:
Blind dog gets help from a guide cat
My dog has a gay tail – What does this mean?
Cat helps baby learn English
Why does my cat meow at me?
Top 10 kitten names of the year
pics, advice, info and stories for pet lovers
Plus, puppy names to watch

We asked 218 veterinary professionals to vote on the dog breeds and mixes that are not good choices for first-time pet parents. German Shepherds, Bulldogs and Akitas are among the breeds new pet owners should steer clear of.

"No! Bad dog!" How many times have you scolded your misbehaving canine with those words? Probably too many. But before you fly off the handle, one of the most important things to understand about correcting bad behavior is that punishment doesn't work.

If you have a hard time cruising through the toy aisle without loading up, you're not alone. But the good news is that there are tons of inexpensive dog toys that still deliver big fun. Check out our picks, and be sure to share in the comments if we left off your dog's favorite!

Sexy mice? Yes, they exist