Cat survives 80-foot fall
After eight days in tree, lucky kitty lands on her feet.
A 2-year-old kitty in Marion, Mass., has had a harrowing start to the new year. Firefighters tried three times to rescue her from the tree that she'd been stuck in for eight days before she fell 80 feet from her perch on Sunday — and then took off into the brush.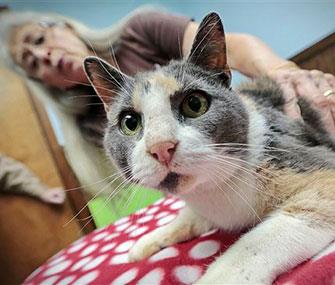 Pam Robinson, founder of a local pet shelter called It's All About the Animals, finally caught her on Tuesday, named her Fortunate, and brought her to the Marion Animal Hospital to be checked out.
"I don't see anything wrong with this cat; it's unbelievable," said veterinarian Dr. Rachel Francis, who examined her. "She's certainly a survivor."
Bing: More cat rescue stories.
Robinson and Francis said they believe the skittish but affectionate cat, who had a few pulled muscles and a possible parasitic infection, was once someone's pet.
After she recovers, Fortunate will be put up for adoption.
— Read it at Massachusetts' Sea Coast Today
Photo: AP // Fortunate survived an 80-foot fall from a tree.
More from Vetstreet:
Blind dog gets help from a guide cat
My dog has a gay tail – What does this mean?
Cat helps baby learn English
Why does my cat meow at me?
Top 10 kitten names of the year
pics, advice, info and stories for pet lovers
I love all pets. I wouldn't be a veterinarian if I didn't, and I celebrate the human-animal bond every day. I do look forward, though, to the day when these five breeds aren't as popular. The reasons vary, but in many cases the problems are health-related, and overbreeding by puppy mills and other less-than-ideal operations has a lot to do with that. What would help these breeds is for there to be a lot less of them. A couple of them need many more adopters and far less breeding, and all would benefit from people who are well-prepared for the challenges of owning a dog, and who make sure to look to rescue, shelters and reputable breeders for their pets. As always, whatever pet you choose, we veterinarians are here to help you make healthy choices for life.

The mayor of an affluent California town has landed himself in a messy situation.

Dog reunited with owner in Brazil.

These breeds used to be more popular, but they could just be one hit TV show, movie or commercial away from a comeback.

267 veterinary professionals offered up their picks for the Most Athletic, Biggest Flirt and other popular high school categories.