Bo Obama stars in White House holiday card
Dog of the season.
He inspects the tree, inspires the decorations, and now, Bo Obama is front and center on this year's White House holiday card, which features a photo-like painting of the Portuguese Water Dog dashing through the snow in front of 1600 Pennsylvania Avenue.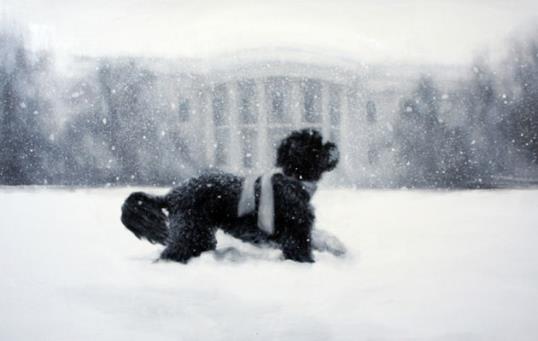 The card, illustrated by Iowa artist Larassa Kabel, was released on Thursday. Kabel says that while she made the painting, her own dog, Beans, a Boston Terrier-Pug mix, sat by her side in the studio, as he does each day.
Her illustration is based on a photo taken of Bo in 2010 — and Kabel says she gave Bo a scarf in her interpretation to add dimension.
We'll be watching to see where this famous pooch turns up next.
— Read it at ABC News
Photo: Whitehouse.gov // A painting of Bo running through the snow is featured on the White House holiday card.
Bing: Find out what President Obama's new approval rating is.
More from Vetstreet:
'The Littlest Bo' appears at the White House for the holidays
10 most popular puppy names of 2012
5 dog breeds that are sadly losing popularity
Is it OK to give a pet as a gift over the holidays?
5 tips for capturing an unforgettable portrait of your pet
pics, advice, info and stories for pet lovers
Tiny Terrier rescued from traffic in Texas.

Shaved legs, trimmed mustaches and long, luxurious coats — sometimes we think the Westminster Dog Show, which airs Monday and Tuesday, is like a red-carpet event for unusual-looking breeds.

February 14 isn't just a day to shower the special human in your life with chocolates and roses. It's also important to do something special for the one member in your family who loves you unconditionally — your pet. In honor of how much we love all things furry, feathered and four-legged, we rounded up our favorite cats and dogs celebrating Valentine's Day.

Here are nine fundamental steps for taking care of your new kitten.

Only 35 of its kind exist in the U.S.

Everyone wins at the Puppy Bowl.