Bo Obama stars in White House holiday card
Dog of the season.
He inspects the tree, inspires the decorations, and now, Bo Obama is front and center on this year's White House holiday card, which features a photo-like painting of the Portuguese Water Dog dashing through the snow in front of 1600 Pennsylvania Avenue.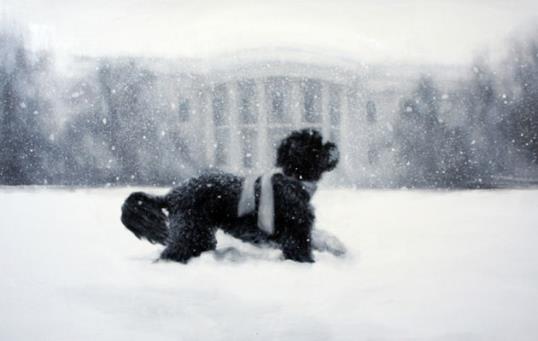 The card, illustrated by Iowa artist Larassa Kabel, was released on Thursday. Kabel says that while she made the painting, her own dog, Beans, a Boston Terrier-Pug mix, sat by her side in the studio, as he does each day.
Her illustration is based on a photo taken of Bo in 2010 — and Kabel says she gave Bo a scarf in her interpretation to add dimension.
We'll be watching to see where this famous pooch turns up next.
— Read it at ABC News
Photo: Whitehouse.gov // A painting of Bo running through the snow is featured on the White House holiday card.
Bing: Find out what President Obama's new approval rating is.
More from Vetstreet:
'The Littlest Bo' appears at the White House for the holidays
10 most popular puppy names of 2012
5 dog breeds that are sadly losing popularity
Is it OK to give a pet as a gift over the holidays?
5 tips for capturing an unforgettable portrait of your pet
pics, advice, info and stories for pet lovers
267 veterinary professionals offered up their picks for the Most Athletic, Biggest Flirt and other popular high school categories.

BarkBuddy helps match prospective doggie-adopters with potential pets.

It's all calm and quiet around your house until one of these visitors appears.

Are you a cat owner? Are you sure about that? Who caters to her resident feline's every need? Who dotes upon her demanding little dictator? Who can be put in her place with just one look of disdain from the kitty in the corner?

Dogs might not seem as mysterious as cats, but canines do have their fair share of behaviors that are truly baffling.

In some households pets are allowed everywhere, all the time. In others, pets aren't allowed on any furniture, ever. But in many, the answer lies somewhere in between.