Bo Obama stars in White House holiday card
Dog of the season.
He inspects the tree, inspires the decorations, and now, Bo Obama is front and center on this year's White House holiday card, which features a photo-like painting of the Portuguese Water Dog dashing through the snow in front of 1600 Pennsylvania Avenue.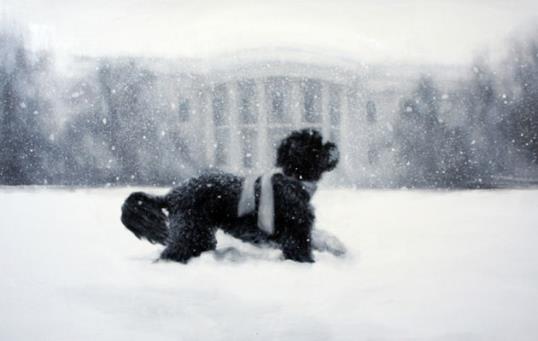 The card, illustrated by Iowa artist Larassa Kabel, was released on Thursday. Kabel says that while she made the painting, her own dog, Beans, a Boston Terrier-Pug mix, sat by her side in the studio, as he does each day.
Her illustration is based on a photo taken of Bo in 2010 — and Kabel says she gave Bo a scarf in her interpretation to add dimension.
We'll be watching to see where this famous pooch turns up next.
— Read it at ABC News
Photo: Whitehouse.gov // A painting of Bo running through the snow is featured on the White House holiday card.
Bing: Find out what President Obama's new approval rating is.
More from Vetstreet:
'The Littlest Bo' appears at the White House for the holidays
10 most popular puppy names of 2012
5 dog breeds that are sadly losing popularity
Is it OK to give a pet as a gift over the holidays?
5 tips for capturing an unforgettable portrait of your pet
pics, advice, info and stories for pet lovers
You may not realize that these are toxic to your critters - keep your pets away from these household plants.

Low-energy and easygoing breeds like the French Bulldog and the Maltese are great choices for seniors looking for a pet.

Pucker up for controversy.

How a pup rescued from a backyard breeder is inspiring change

Whatever you believe about animals and their feelings, the truth is that smiles on animals can be contagious. We found some of the best smiles the animal kingdom has to offer.

Stick chew toys and self-warming beds are some of the top canine products we saw at Global Pet Expo 2013.

We rounded up the best feline food puzzles, toys, scratchers and accessories we could find at the Global Pet Expo. It's like a Disney World for kitties.

The tiny implanted device can do what a missing collar never could — reunite you with a lost family member.

One all the things we love about attending Global Pet Expo, the industry's biggest annual trade show, our favorite is coming across products that amuse us by being unusual or surprisingly clever. Some are truly creative solutions to problems we all face, while others fill a need we didn't even know we had. Regardless, each item in this gallery is sure to make you smile.

Study finds getting a pet is a better predictor of staying together than having a baby.

Once popular, names such as Brandy, Scooter, Spike, Scooby and Lucky have fallen on hard times in the dog-naming world. Check out which male and female names are out of fashion in 2013.

We've already examined the most popular puppy names of 2012, but just finding out which names we're most likely to hear at the dog park wasn't quite enough. We wanted to look at which monikers were on the rise, so we dug a little deeper to determine the 10 trendiest names of 2012. To do so, we hit up Vetstreet's data, which includes information about 1.26 million dogs. We looked at where the names were in 2003 and 2012; those that moved up the most made the list. Of course, some names fell off the list completely in the past decade — Elvis, Ozzie and Cassie among them. Some of these were replaced by newer names like Thor and Athena that, despite a late entry to the Top 100, have become popular enough that they, too, were included.