Understudy cat in 'Breakfast at Tiffany's' gets the boot
The claws came out on the set of Broadway's 'Breakfast at Tiffany's,' and it was Montie the feline understudy who got scratched from the Playbill.
The New York Times reports that a black-and-white cat has been fired for not following stage directions and for being difficult to work with. He had already lost out on the chance to headline as Holly Golightly's companion — to a big, orange tabby named Vito Vincent. Now it seems his new transgressions have pushed him even farther from the spotlight on the Great White Way.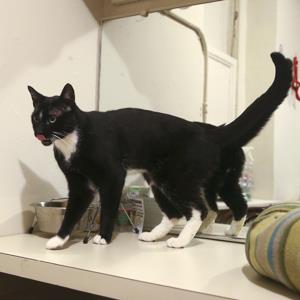 A video and narrative published by the Times earlier this month may have foreshadowed trouble ahead for the embattled cat actor. From humble beginnings as a rescue cat at the Dawn Animal Agency (a 300-acre animal sanctuary in New York's Hudson Valley), he made his way to the Broadway stage with owner Babette Corelli — who, incidentally, is the cat trainer for the production. For that reason, the Times reports, Montie will stay at the theater, despite being replaced by another feline actor, named Moo.
Diane Katz, coordinator for talent at the sanctuary, says understudy responsibilities will now be handled by two of its other rescue cats, Chessie and Moo.
Meanwhile, Montie will resume work on other acting projects. His resume includes scenes in "Rescue Me," "30 Rock," "Sex and the City," "Law & Order" and the film "The Life Before Her Eyes," with Uma Thurman.
"The ones that are prone to be in show business help to support the others who don't work," she says. "That's what our sanctuary is about."
Hopefully, all this casting commotion won't rattle Vito Vincent, who Variety said delighted guests at Wednesday's opening-night party for the show.
Because, you never know — there might be another cat star waiting in the wings.
More from Vetstreet:
The toughest decision pet owners have to make is ...
4 best household items that remove pet-stains from carpets
Why does my cat ... head-butt me?
5 best dogs for your golden years
Are five cats too many for one person to keep?
Photo: Chang W. Lee/The New York Times / Montie the cat has been let go from his understudy acting job in the Broadway production of "Breakfast at Tiffany's."
pics, advice, info and stories for pet lovers
As you trim your tree, hang the lights, bake cookies and prepare for guests, remember that there's a certain member of your family who also deserves something extra special this holiday season: your dog. Save a little space under the tree for these beds, toys, collars and outfits for your favorite canine. Plus, we've even included a couple of gifts for the dog lovers in your life!

Dr. Marty Becker shares questions you should ask yourself before making the commitment to foster a shelter pet.

Adopting an animal is a major commitment. Yet all too often people put more effort into researching what kind of car to get than the type of pet that would best fit their lifestyle.

'Tis the season to send out holiday greeting cards to all your friends and family. But, as our friends at Awkward Family Pet Photos know, not all holiday snapshots are the same. Some are just plain kooky — especially when pets are included. So with good tidings and great cheer, here are 10 wacky holiday animal portraits that are sure to make you laugh out loud and get you in the holiday spirit. And possibly make you think twice about dressing up the family cat this year.

King of the jungle? Nah, it's just a labradoodle!

Do you have a finicky furry friend on your holiday gift list this year? You're in luck! We've rounded up the coolest cat-approved products to bring you purrfect gift ideas for every kind of cat -- from the curious kitten to the most refined feline. Any one of these special gifts could make your resident kitty purr with pleasure and maybe, just maybe, like the present this year even more than the box and wrapping paper it came in!

Plus, puppy names to watch

We asked 218 veterinary professionals to vote on the dog breeds and mixes that are not good choices for first-time pet parents. German Shepherds, Bulldogs and Akitas are among the breeds new pet owners should steer clear of.

"No! Bad dog!" How many times have you scolded your misbehaving canine with those words? Probably too many. But before you fly off the handle, one of the most important things to understand about correcting bad behavior is that punishment doesn't work.

If you have a hard time cruising through the toy aisle without loading up, you're not alone. But the good news is that there are tons of inexpensive dog toys that still deliver big fun. Check out our picks, and be sure to share in the comments if we left off your dog's favorite!

Sexy mice? Yes, they exist