The uppers & downers of parenting
(or, coffee and wine)
I am a drug addict. I use uppers and downers.
But only to make me a better parent. 
I never drank coffee before I had kids. We didn't even own a coffee maker. 
Back in those days, I looked down upon anyone who needed coffee in the morning. The more they required it the less I thought of them. They were weak. Slaves to the bean. Didn't they know it is a drug they are addicted to? Just stop drinking that cr*p and then you won't need it. 
Then I had two kids. 
Kids wake up with energy. Kids wake up with loudness.
Kids wake up too damn early.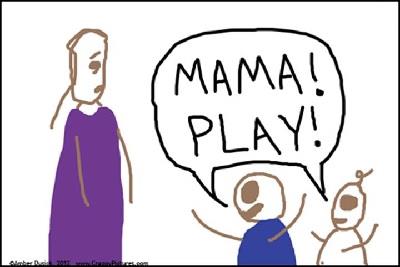 No I will not play with you. Go away. I need coffee.  
After coffee: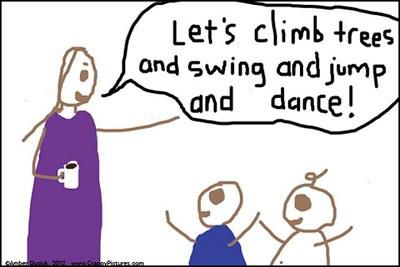 I don't need it. But they need me to have it. 
I'll stop drinking it just as soon as they stop waking me up before the rooster crows.
(We don't actually have a rooster. Did you think we did when I wrote that? That would be cool. Maybe I should take this out and let you think we have a rooster.) 
So that is my little helper pick-me-upper in the morning.
And then there is the evening.
Sometimes, after an especially rough day, I'm stressed out at night. 
Everything sets me on edge. I'm a bundle of nervous thoughts.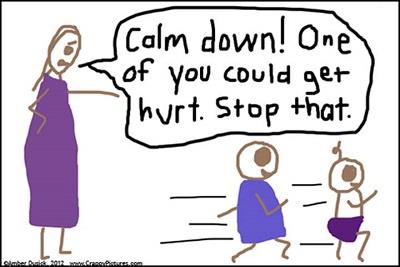 Go to bed. I can't handle one more minute of this parenting thing. I have to do this again tomorrow! How can I handle another day like this one? Nobody is listening to me! 
But then my husband hands me a glass of wine.
After wine: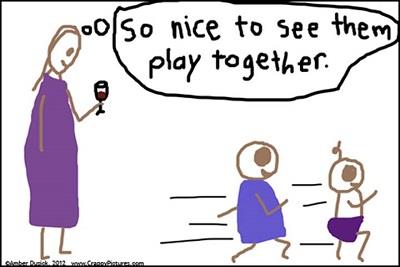 Again, I don't need it. But they need me to have it.
So that is my occasional little calm-me-downer in the evening.
Coffee & wine. My unsung parenting tools.
Blah blah blah, yes alcoholism sucks, blah blah blah, notice I said occasional, blah blah blah, did you know that judgmental people are ugly, blah blah blah. 
Eating entire pints of ice cream is another favorite unsung parenting tool of mine. As is sneaking chocolate. And snorting huge piles of cocaine. 
Just kidding about that last one. 
Amber Dusick writes and illustrates the blog Crappy Pictures , drinks coffee out of this mug and is celebrating her new book Parenting: Illustrated with Crappy Pictures with a glass of wine. But not always at the same time.  

More from Mom to Mom:
Worst end of school mom ever
When I stopped yelling at my kids
Want to contribute a blog? Email us
News, stories, tips and laughs for moms & dads
4 steps for raising a child who doesn't feel emotionally stranded.

Any of these sound familiar?

Fire challenge involves pouring alcohol on one's chest and lighting it

A coincidence after the furlough?

Helpful tips for easing first day jitters.

Getting ready for fall has never been more fun.

Great reads for the back-to-school mindset.

Remember the concept of weekends being a time for rest, relaxation, and togetherness? No? Us either. Between soccer games, playdates, dragging your kids to see the new exhibition at the local children's museum, and we need to pick up a gift for that birthday party that starts in . . . 20 minutes, juggling a busy family's weekend schedule can be more stressful than a weekday. While we know it's simply not realistic to cancel all your plans and obligations moving forward, clearing the calendar for just one weekend can be just the refresher that your family's craving. Here's why.

You just had a baby? You're a superstar! All those diapers, all that spit up, and you're makin' magic happen. But you're also likely tired - really tired - and busy (so, so busy). Taking time for yourself might seem like an indulgence but a happy mom makes for a happy baby. Here are 7 things you should definitely do to keep your sanity intact and your spirit high. <more, below>

Summertime is on, and the kids are out of school. Every mom knows that for these three months it's more important than ever to keep the kids busy. But you don't have to schedule your life away with camps, or drop a bundle on activities and games that come in a box. You can make your own fun, and even include the kids in the prep, with some simple, inexpensive DIY crafts that will keep them playing 'til the lightening bugs come out. Make your own fingerpaint, bubbles, and crayons. Create a fort-building kit and superhero capes that will kick their imaginations into overdrive. Here are 10 of our favorite kid-friendly DIY crafts to fuel your summertime fun.

Let these DIY dog bed projects be your inspiration and within a single weekend, you can construct something that really makes Rex feel like a king.