American Airlines apologizes to breastfeeding mom
But is their apology sufficient?
A recent Facebook post is making the rounds after a mom who was breastfeeding her infant son on an American Airlines flight was asked to 'cover up' by a flight attendant. When she declined, stating her preference to feed her baby without a blanket covering him, she claims she was mistreated (the attendant allegedly didn't serve her drinks or make eye contact with her for the duration of the flight and moved a young girl out of the mom's row, making allegedly rude remarks about mom and baby).
American Airlines issued an apology, but Hannah Butta, a friend of the mom in question, isn't satisfied by their response. The airline suggested that they were sorry the attendant mistreated them, but that they ask for "certain discretion and a sense of modesty," while breastfeeding.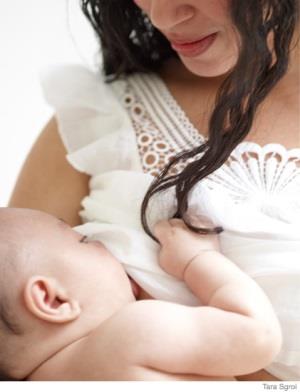 According to Butta, "The federal government and nearly every state have laws in place that protect women nursing in public.... Are the legal rights of breastfeeding infants really lost when the plane leaves the ground?"

The mom involved, who would like to remain anonymous, tells the full story:

"On July 21, 2013 my husband and I were travelling home with our 5 month-old son on an American Airlines flight. After lift-off, I allowed our son to begin nursing as it helps his ears not hurt and prevents him from crying for the rest of the flight. I was sitting in the window seat, my husband was sitting in the center seat, and our son's head was toward the window so no one could really see what was going on. There was a girl about ten or twelve years old sitting in the aisle seat next to my husband. She had her headphones on and was chatting with her friends in surrounding seats – my son's eating did not seem to be bothering her.


A few minutes after my son started nursing, a stewardess walked by our row, shook her head at me, and shot me a very displeased look. I told my husband, and we both agreed that she probably wouldn't go any further, since I was being discreet and no one else seemed bothered. A few minutes later, the same stewardess returned to our row, leaned over the girl in the aisle seat, and told me (after a bit of hesitation as she couldn't find her words) that I needed to put a blanket over my son "because there are kids on this flight." My husband promptly responded that there was no problem with what I was doing and that we preferred to not use a blanket. The stewardess left our row and walked to the back of the plane.
A few minutes later, she returned again and told the young lady in the aisle seat, "I'm going to move you back here because you're probably really uncomfortable." By that time, our my son was asleep and the girl had yet to take notice in my nursing of him.

More from Mom to Mom:
#ISupportYou aims to end mommy wars over infant feeding
For the rest of the flight, that stewardess never offered us drinks and avoided looking at us, but my son happily nursed and slept. We had passengers all around us saying how thankful they were that our son was sleeping, commenting 'He's the best baby on the plane!'
I filed a complaint on the American Airlines website describing the employee's inappropriate, harassment-style behavior, saying that it made me hesitant to fly with American Airlines again. On August 3, 2013, I received the attached letter in response – Not an apology and further reason to believe that harassment is not uncommon for breastfeeding mothers flying with American Airlines."
What do you think: Did American Airlines apologize sufficiently, or is this mom right to be dissatisfied with their response? Tell us on Facebook
News, stories, tips and laughs for moms & dads
Transform the fall vegetable into cool decor pieces.

Put together these creative, but simple, Halloween looks for your youngsters.

We know you're documenting just about every move baby makes. (Do you even have any memory left on your phone? We didn't think so.) These tips from professional photographers can help you perfect your pics.

These six on-trend ideas will make baby's room your new favorite place to hang out.

Baby probably won't remember his first birthday party, but that doesn't mean you can't go all out (after all, parents need to celebrate making it through this first year, right?). These fun, colorful themes take planning to the next level.

See what celebrities who had problems conceiving have to say.

You'll be hearing a lot of advice and opinions. Some of it will be really helpful and some will be just plain wrong. Here are the most common things people say about babies that aren't true.

A new dad finds an Epcot Center's worth of innovation after expecting none at all.

The dog days of summer may be well behind us, but that doesn't mean it's time to pack in the outdoor adventures quite yet.

Protect yourself and your family with these ingenious gizmos and smartphone apps.

Make sure your go-to gadgets are as cute as your style, with these trendy tech finds!

Oh, how the times have changed...