American Airlines apologizes to breastfeeding mom
But is their apology sufficient?
A recent Facebook post is making the rounds after a mom who was breastfeeding her infant son on an American Airlines flight was asked to 'cover up' by a flight attendant. When she declined, stating her preference to feed her baby without a blanket covering him, she claims she was mistreated (the attendant allegedly didn't serve her drinks or make eye contact with her for the duration of the flight and moved a young girl out of the mom's row, making allegedly rude remarks about mom and baby).
American Airlines issued an apology, but Hannah Butta, a friend of the mom in question, isn't satisfied by their response. The airline suggested that they were sorry the attendant mistreated them, but that they ask for "certain discretion and a sense of modesty," while breastfeeding.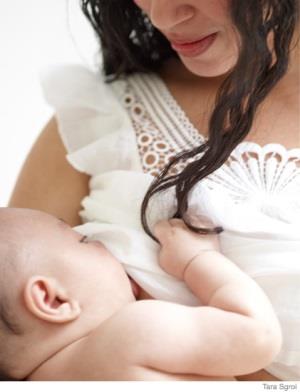 According to Butta, "The federal government and nearly every state have laws in place that protect women nursing in public.... Are the legal rights of breastfeeding infants really lost when the plane leaves the ground?"

The mom involved, who would like to remain anonymous, tells the full story:

"On July 21, 2013 my husband and I were travelling home with our 5 month-old son on an American Airlines flight. After lift-off, I allowed our son to begin nursing as it helps his ears not hurt and prevents him from crying for the rest of the flight. I was sitting in the window seat, my husband was sitting in the center seat, and our son's head was toward the window so no one could really see what was going on. There was a girl about ten or twelve years old sitting in the aisle seat next to my husband. She had her headphones on and was chatting with her friends in surrounding seats – my son's eating did not seem to be bothering her.


A few minutes after my son started nursing, a stewardess walked by our row, shook her head at me, and shot me a very displeased look. I told my husband, and we both agreed that she probably wouldn't go any further, since I was being discreet and no one else seemed bothered. A few minutes later, the same stewardess returned to our row, leaned over the girl in the aisle seat, and told me (after a bit of hesitation as she couldn't find her words) that I needed to put a blanket over my son "because there are kids on this flight." My husband promptly responded that there was no problem with what I was doing and that we preferred to not use a blanket. The stewardess left our row and walked to the back of the plane.
A few minutes later, she returned again and told the young lady in the aisle seat, "I'm going to move you back here because you're probably really uncomfortable." By that time, our my son was asleep and the girl had yet to take notice in my nursing of him.

More from Mom to Mom:
#ISupportYou aims to end mommy wars over infant feeding
For the rest of the flight, that stewardess never offered us drinks and avoided looking at us, but my son happily nursed and slept. We had passengers all around us saying how thankful they were that our son was sleeping, commenting 'He's the best baby on the plane!'
I filed a complaint on the American Airlines website describing the employee's inappropriate, harassment-style behavior, saying that it made me hesitant to fly with American Airlines again. On August 3, 2013, I received the attached letter in response – Not an apology and further reason to believe that harassment is not uncommon for breastfeeding mothers flying with American Airlines."
What do you think: Did American Airlines apologize sufficiently, or is this mom right to be dissatisfied with their response? Tell us on Facebook
News, stories, tips and laughs for moms & dads
Plus, kitten names to watch

The names that best symbolized our year

As you trim your tree, hang the lights, bake cookies and prepare for guests, remember that there's a certain member of your family who also deserves something extra special this holiday season: your dog. Save a little space under the tree for these beds, toys, collars and outfits for your favorite canine. Plus, we've even included a couple of gifts for the dog lovers in your life!

Dr. Marty Becker shares questions you should ask yourself before making the commitment to foster a shelter pet.

What one mom learned about herself might just change your world

From Ryan Gosling earrings to portable speakers, there's something here for kids of all ages.

When it comes to holiday giving, it's the thought that counts, which is why homemade gifts from kids are so treasured by their mothers. Children might not have money to spend on an expensive piece of jewelry or designer handbag, but they do have the time to DIY something special for their number one fan. If you're in charge of helping the little ones think of presents, check out the above list of homemade gifts for mom. From a custom vase to Instagram coasters to Warhol-inspired wall art, we have something for every taste and skill level.

At our household, we have a large, diverse collection of toys. While I'm not as uptight as my husband on what enters our kids' toy chest, my husband must approve all toy acquisitions mostly because of aesthetics (appearance is important). In our search for functional and stylish toys, the sustainable ones often have the best design, and appeal to the visual and tactile senses or improve fine motor skills such as dexterity and hand coordination. Here are a few of our family favorites that intrigue and hold our little ones' attention—and look good, too.

Worried that a violent video game might sneak its way into your shopping cart during the holidays? Before you make it to the register, make sure you're armed with all the information you need regarding your child's games. Just because your well-meaning thirteen-year-old promises you that the game he's about to buy with the gift card from Uncle Mike is totally chill, doesn't mean it's good for kids. Do your research ahead of time to avoid any game store drama. And have a chat with your offspring before the big day; let them know that you're going to have to green light their choices before they get their hearts set on any particular item. At the end of the day, you're just being a good parent. Some of the games on the market now may look OK at first glance, but are actually quite objectionable. Trust us: We've done our homework and we're here to give you the ultimate low-down. Check out this slideshow for all the games to steer clear of this season. Don't say we didn't warn you.

Two sociologists have found that parents who have daughters are more inclined to support the GOP and turn a cold shoulder to Democrats.

The experts at Nameberry.com predict what will be big in baby-naming next year

Famed event-planner David Stark shared tips for making chic holiday decorations using items you already have around the house. Take a look!