To the author of anonymous note left on my windshield
Mom of special needs child speaks out
I think I recognize you! I do. Before becoming a Mom, I used to live in your world of Black & White, everything in order, in its place. I got a plan, got a schedule, a list of finished projects, checked off checklist and all. How wonderful for you that your life is so structured, so dependable and predictable that you cling to that line dividing right and wrong, black and white, and that you feel compelled to comment when you think someone is coloring outside the lines.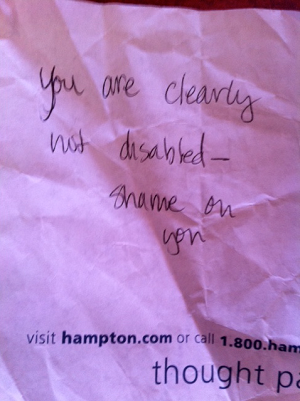 This time though, in your hurry to keep things neat and orderly... you didn't see the whole picture. I guess you didn't see the accessible permit hanging from my car mirror, giving me permission to park close to the entrance. You didn't see the wheelchair lift permanently installed into the back of my SUV, and you didn't see me unload my little girl's pink manual wheelchair that we use for " quick " trips. Maybe from your view you only saw my older daughter and I, and not Zoe's bubble gum pink wheelchair.
But forget all that, it could have only been my older daughter with me that day, parked in that same spot, and depending on her health at that moment- in your eyes, we would have appeared to be at fault- even though her doctor almost nags me, reminding me often to use the medically authorized permit to conserve her energy when needed. But looking at her you wouldn't know she has the same progressive metabolic disorder as her younger sister. She doesn't have a wheelchair, but she has the same rights- all invisible to you from the perspective of your world. I recognize where you are from. I used to live there too. I used to have checked off lists, awards of accomplishments, perfect hair, great skin, sparkly eyes, a quick wit,  a clean car, a social life, a large social network, an organized calendar, vacation plans set in stone, and a no overdue library books. But then I became a Mom. And unexpectedly, a mom of a special needs child. A child with no lifelong guarantee, no definitive prognosis and no detailed treatment plans. We have good doctors, we have a good attitude and we have a good family life. 
My life is good, but not so easily structured. My skin not so healthy, my hair often flyaway, my eyes most often tired. I am up multiple times throughout the night, I rise at 5 and go full speed until 9 at night, still stymied and determined to do more each and every day.  I miss the friendships I used to have, the once-so-easy-to-achi​eve professional accomplishments, but I don't miss that world you live in. 
I am a kinder woman who lives in a world that is no longer black and white. Sometimes gray is good, a salvation, a retreat from something that could be much worse. My priorities were reshuffled for me, and now I would never think to judge another.
I am always in motion and I am grateful. Grateful for the touch of my child who needs my hands to steady her,  grateful for my child who craves my words to calm her, my child who needs my hugs to soothe her. I am even grateful, that I no longer live...in that black and white world. 
For more from this blogger, check out specialneedsmom.com
More from MSN Mom to Mom:
Why I stopped saying 'hurry up' to my kids
The upsides of autism
News, stories, tips and laughs for moms & dads
Sociologist Karen Z. Kramer found that over the past decade more than 550,000 men were stay-at-home fathers, which is about 3.5 percent of the married with kids population.

Ben Miller celebrates his wife's birthday and the anniversary of the day their premature son Ward Miles came home for good with a video documenting his first year.

Adopting an animal is a major commitment. Yet all too often people put more effort into researching what kind of car to get than the type of pet that would best fit their lifestyle.

'Tis the season to send out holiday greeting cards to all your friends and family. But, as our friends at Awkward Family Pet Photos know, not all holiday snapshots are the same. Some are just plain kooky — especially when pets are included. So with good tidings and great cheer, here are 10 wacky holiday animal portraits that are sure to make you laugh out loud and get you in the holiday spirit. And possibly make you think twice about dressing up the family cat this year.

King of the jungle? Nah, it's just a labradoodle!

Side-by-side images of adorable babies and their celebrity doppelgängers

Do you have a finicky furry friend on your holiday gift list this year? You're in luck! We've rounded up the coolest cat-approved products to bring you purrfect gift ideas for every kind of cat -- from the curious kitten to the most refined feline. Any one of these special gifts could make your resident kitty purr with pleasure and maybe, just maybe, like the present this year even more than the box and wrapping paper it came in!

Plus, puppy names to watch

This holiday season's hottest toy has yet to be revealed, but more often than not, the best gifts are the ones kids don't even know to ask for. So this year, surprise your kids with unique presents under the tree, and watch as their eyes light up when they unwrap them. From space-age sand to a DIY race track, these out-of-the-box gift ideas will provide some serious shopping inspiration. Click through the slideshow above for all our favorite picks.

Yep, you're older than you think

Avoid these gaffes for a better relationship with your stepchildren—and your spouse.

The top 25 best holiday movies for kids and their families, from old school classics like Miracle on 34th Street and It's a Wonderful Life, to newer classics like Elf and The Nightmare Before Christmas.