10 questions to ask your newborn photographer
A mom and professional photographer shares her insights
Newborn photography has become a very popular way to document adding a new, tiny member to your family. So, how do you know who to choose as your photographer? Most people are drawn by the images they see on a photographer's website or Facebook page, but the prices might seem high. While it may be tempting to try to 'find a deal' and get a photographer who is less expensive, there are a few key points that you should consider before making a decision based solely on price.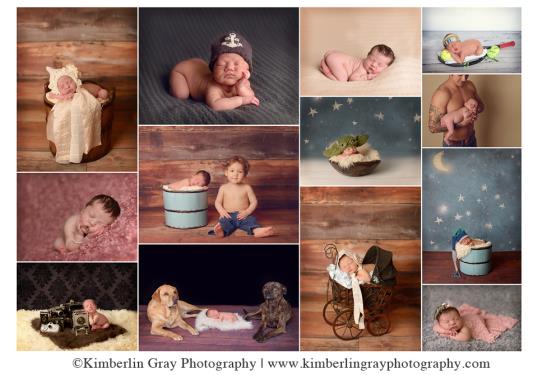 As a mom myself and a professional photographer who specializes in newborn portraiture, I'd like to give you a little insight into the difference between a professional photographer and someone who takes pictures as a hobby. This information can help you understand why professional custom portrait photographers charge more, as well as why it's important to be sure you are entrusting your precious newborn baby with a trained professional. Below are ten questions to ask when looking for a photographer:
1. Have you taken any workshops or had any training in posing newborns?  With the availability of low-cost digital cameras and the plethora of websites devoted to photography these days, it's hard to know the difference between a professional photographer and a photographer enthusiast.  Many photographers are self-taught, but those skilled in newborn portraiture have taken the time to learn newborn posing and how to safely handle the littlest of subjects. Newborn portraiture is a specialized field. If someone is just starting out or hasn't taken any specific training with regard to newborns, be very careful.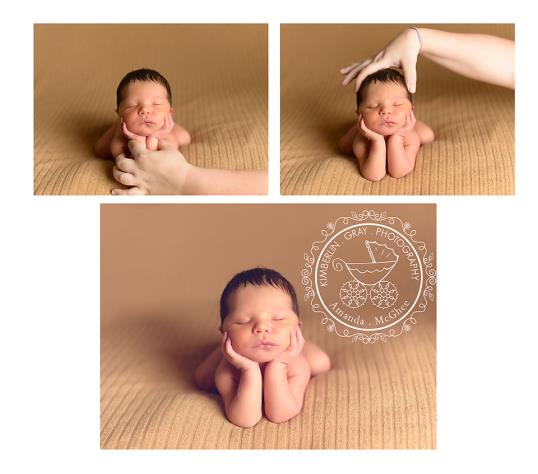 They may not know how to safely replicate the poses they see online. I have heard stories of photographers bending baby feet and hyperextending limbs because they do not know the correct way to get the baby into proper posing positions. Not all babies will be able to do every pose. Look at the portfolio of the photographer you are considering. Do they have a diverse portfolio of babies and poses? Do the babies look comfortable? Can you see their faces? Are the photographs in focus and well lit? Are the hands or feet purple? 
2. At what age do you prefer to schedule newborn sessions? Most professional newborn photographers know that babies are most 'womb-like' in the first 2 weeks of life. That means that the ideal time for a newborn session is generally when a baby is 5-10 days old. They are very sleepy at this time and still remember being curled up in the womb, so their legs tuck up underneath them very comfortably and we can pose them in all those sweet poses more quickly and easily while they sleep.  At about two weeks old, babies go through a growth spurt where they want to eat more often and they don't fall back asleep so quickly and easily - and they don't stay asleep while we pose them.
More from MSN Living: Adoptive mom's 'newborn' photo shoot goes viral
This doesn't mean that you cannot have a newborn session if your baby is over 2 weeks old - but it does mean that you may have more images of your baby awake or you may choose a more 'lifestyle' session where baby is in his crib or being held by mommy instead of in the curly, bendy poses.  Your newborn photographer should be knowledgeable about what she expects from the session based on the age of your baby at the time of the session.
3. How long have you been working with newborns?  Many people who have children feel like they would be well suited to work with newborns since they have had babies of their own. But newborn photographers will tell you that every newborn is different. Some like being rocked, some like being bounced, some like pacifiers, some like to lay on their tummy, some like to be swaddled....and some won't like anything you try! Having the experience of working with many, many newborns gives professional newborn photographers the expertise to soothe colicky babies, to know what positions are best for babies with reflux, to understand how to pose multiples, and everything in-between.  Good newborn photographers are patient, kind, and gentle with your baby. 
4. Do you have props (blankets, baskets, hats, headbands, etc.)? As anyone can see by browsing through Pinterest or Facebook, the popularity of props like buckets, branches, baskets, etc. in newborn photography is growing. Make sure to ask your photographer if she has a variety of hats, headbands, blankets, baskets, etc. if you are looking for that type of thing during your session. These items can be very expensive, especially those that are well made and safe for newborns. 
More from Mom to Mom: Why new moms can't shower
Professional newborn photographers charge enough for their sessions to cover the costs of having these things on hand in their studio for babies.  They are often very selective about what they will choose to use during a session for safety or aesthetic reasons. 

And since newborns come in all sizes, it is important for them to have larger and smaller items so that they are prepared for your baby. If a parent requests a specific prop but their baby is too large or too small to safely fit in that prop, I will not use it. Your baby's safety should be the first priority for your photographer, no matter what 'cute shot' they could achieve!
5. Do you do composites for difficult poses?  Many expectant and new moms see photos of babies hanging in nests from tree branches, curled up in helmets, sleeping on top of tall chairs, etc. and think, "How did they do that? I want a picture of my baby like that!" What you don't see is the process behind creating those images. Any image where a baby is on top of a prop or hanging from something should be done as a composite, which means that the photographer takes multiple photos of the setup and then merges them together using photo editing software like Photoshop. This includes popular poses like the 'head in hands' or 'froggy' pose. The most important detail in creating these images is that there is an assistant or a parent holding that baby AT ALL TIMES!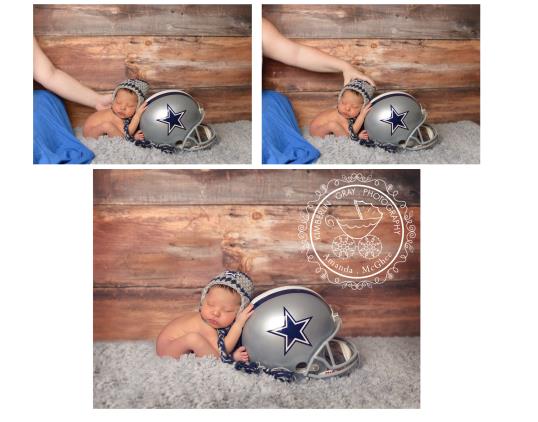 A newborn baby should NEVER be left propped up on something where they could startle, roll off, or fall out. They should never be put in anything glass and if they are inside any type of bucket or basket that is off the floor, there should be an assistant with a hand on or near the baby.  If your photographer does not know what a composite is or how to achieve it, consider that a red flag.
More from Mom to Mom: Keep your cranky kids at home?
6. Do you have a studio or will you travel to our home?  Professional newborn photographers may have a retail studio, a home studio, or they may travel to the homes of their clients for newborn sessions. Beautiful images can be created in any of those settings, but asking about the details can help you learn more about how your photographer conducts a session. Some people are more comfortable going to a studio for a photo shoot, while others prefer if the photographer comes to them. Whether your photographer uses natural light or studio lighting will also be important depending on where the session is held. You can often tell by looking at the photographer's website and image portfolio if they are more of a 'lifestyle' photographer or a 'posed, studio photographer'.  
7. Do you have insurance?  Any photographer who works with newborn babies should have business and liability insurance, as well as a current business license. These items mean that you are dealing with a true professional. A professional photographer should also provide a contract agreement for you to sign that documents all of the key terms and conditions for the session. You should feel comfortable handing your precious baby over to your photographer and trust that they have done everything possible to protect your child. 
8. Do you have an assistant or will there be other people with you at the session? Sometimes photographers will have an assistant who helps them during the session, and other times they will rely on a parent to help them with more difficult poses. It's always good to know if there will be additional people handling your baby or others watching at the session. I have heard of some photographers with home studios who have their own children around during the session. You have the right to decide who is at your baby's session!
9. Do you feel comfortable with preemies?  Having a baby prematurely is not something any of us plans for, but it does happen and your newborn photographer should know what to expect and how to handle preemies safely.  Sometimes, a preemie has to stay in the hospital for days, weeks, or even months. How will your newborn session be planned?  What if you bring home a 4lb baby? Will your newborn photographer be comfortable posing her or would she rather wait until your baby is a bit older? Also, hygiene and a healthy environment are important for preemies. Is the studio space cleaned regularly? If the photographer has a home studio, are you bringing your preemie into a home with other children or a family member who may have recently been sick? These are all valid questions to ask your newborn photographer!
10. Are parents and siblings included in the newborn session? There are some photographers that specialize in newborns, but do not prefer to include parents and siblings in the session. Other photographers may charge extra for each additional person. It's always a good idea to clarify with your newborn photographer who will be photographed during the session and how to best prepare with clothing choices and timing.
Use these tips to be sure to hire a professional photographer whose work is outstanding so that your newborn is safe and you can enjoy your treasured, beautifully captured moments forever.
Amanda McGhee is a mom of two and a professional newborn photographer. You can find her at KimberlinGrayPhotogr​aphy or on Facebook
For more Mom to Mom blogs on MSN Living, try these:
I'm a stay-home mom with a nanny - don't judge
Worst 'end of school' mom ever
What happened when I stopped yelling
10 things moms do at Target
News, stories, tips and laughs for moms & dads
Watch the video of Kristen Bell going head to head with paparazzi - it will make you angry

Every year, toy makers from around the world gather to show their latest creations at the Toy Fair in New York City. The high-tech models, gadgets and trinkets on display put those basic Legos we played with at kids to shame. Here are 10 new toys that we'd happily buy or children. Or, really, ourselves.

Find yourself wandering the aisles, suddenly needing an owl-shaped candle while drinking a $5 latte? You're not alone, moms...

Here's some parenting advice for whatever stage of separation or divorce you're in.

Whether you pop it in the mail or post it on social media, a creative photo is a surefire way to grab everyone's attention and proudly say, "I'm pregnant!" Prepare for a lot of likes.

Remember the magical children's rooms in Peter Pan and The Little Prince? These timeless novels described spaces that were enchanting and made us wish that we could inhabit the rooms ourselves. The sumptuous interiors that were filled with never-ending toys and fort-like draping may seem like a fairytale, but thanks to four of our favorite kids' furniture websites, the dream could actually become a reality. Click through the slideshow to check out the best kids furniture websites that have everything necessary to create a fantasy room for your little one. And check out Sophia Demenge's super-fun space in the video below. By Barry Samaha

They lay, they play, and they take selfies with supermodels. Meet 5 of the most social media-savvy pets—animals taking control of their own fashionable online image.

We could try to offer you carefully researched and crafted words of Dad-centric inspiration, intended to show you the path to being a better man and, in turn, a better father. But Tom Limbert took up the task for us in his new book 'Dad's Playbook: Wisdom for Fathers from the Greatest Coaches of All Time,' so we left it to him. Limbert -- a parent coach and the founder of the Studio Grow children's play space in Berkeley, California -- has collected pearls of wisdom from an elite crew of coaches who have not only experienced greatness themselves, but also found ways to consistently instill it in their teams. "It's monkey-see, monkey-do," Limbert told us, after we asked him to gather the best quotes on achieving one's goals. "If you want your child to follow, you have to lead." Click on to read the often simple-seeming words that have inspired countless others to follow through on the field, but that can also easily be translated to the school, work, fitness, and, of course, parenting arenas.

What parents need to know

It's raining, it's pouring ... but that doesn't mean the day has to be a snore. Rather than let the kids grow restless and rambunctious, why not divert their energy toward some fun family bonding activities? Although the weather may have scotched your original plans for the day, seize the opportunity to reconnect and let loose with your loved ones. Click through this slideshow for ten refreshing rainy day activities that'll make you glad the clouds (almost) rained on your parade.

Every family has its oddballs. And the holiday season is the one time of year when you're pretty much forced to interact and play nice with the grand majority of them. Click through the slideshow above for our guide to dealing with the five worst kinds of kin. *Disclaimer: All characters appearing in this work are fictitious. Any resemblance to real persons, living or dead, is purely coincidental.

Not great with a budget? Don't sweat it. Try these simple ways to save.