The perks of autism
Being the mother of two children with autism does have its perks.
Don't get me wrong; my boys certainly bring out the "extreme" in parenting.  However, when I talk with my friends who are raising neuro-typical (NT) children and I listen to their many frustrations in raising them, I have noticed a number of difficulties we do not share.  In fact, I have a much easier time of parenting the Trouble Brothers because they don't engage in many of the "normal" behaviors of their NT peers.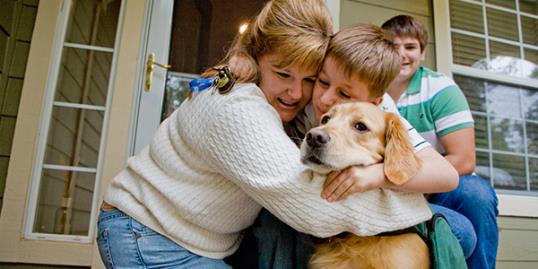 No Whining. 
My boys do not whine.  Ever. They may scream loudly like wild banshees at times when their developmental limitations prevent them from using words to express their dissatisfaction with something but they never resort to that incessant nails-on-the-chalkbo​ard whine that lasts hours and leaves a mother white-knuckling it through the day.
Lack of Sibling Rivalry.
Growing up with two sisters I remember the antics we used to pull that left our mom wanting to sell us to the gypsies.  Every trip in the car, grocery store visit, and family photography was laden with the whines of, "MOOOOMMMMM, Caryn poked me!", "MOOOOMMMM, Sunday touched my new Barbie and gave it cooties," "MOOOOOMMMMM, Molly picked her nose and touched my pillow!"  Truly, I don't know how any of us lived past the age of 10.
Thankfully, I have never had to experience this with my own children.  My boys tend to steer clear of one another and will gladly enjoy their own books, videos, or toys independently from one another.
No Fashion Awareness.
"But MOMMMMM, everyone has more Silly Bandz than me!", "I can't wear THAT!  All the kids will make fun of me if I don't have such and such jeans!", "I am NOT wearing anything that comes from Walmart, Mom!"
Thankfully the Trouble Brothers will never utter these words.  Individuals with autism do not recognize the social desire to fit in and follow the crowd.  They are their own crowd and they like it that way.

Lack of Greed and Competition. 
Thankfully my boys don't spend Christmas morning counting who has more presents than the other.  If money is a little tight and they only have one present on their birthday they are overjoyed with what they do have instead of being mad that there wasn't more. 

More from Mom to Mom: Real Housewife Jacqueline Laurita shares her journey with son's autism diagnosis

In fact, I can visit the local children's consignment shop and buy a gently-used toy for a quarter of the price of a new one and they could care less.   They are happy to have anything that is new…even if its only new to them. 

Not hearing "WHY???" Endlessly.
If there is one thing I am most thankful for in having children with autism it is that I never have to listen to barrage of whiny ad-nauseam "WHY?" questions. In general, individuals with autism do not tolerate not knowing what is coming next. This is why the question "Why?" makes them uncomfortable. The autistic mind prefers knowing the answer to a question before asking it. At the very least, they prefer a simple "yes" or "no" answer over the unknown that can follow the question, "Why?"
More from MSN Healthy Living: Can you spot autism risk at birth?
Routine. 
My kids have a very set routine to their day-to-day life.  Their diets are boring and quite limited but those limitations also make meal times a snap.  I know that as long as I have bread, cheese, and chocolate chip cookies in the house the boys are set for life.  Noah has a definite addiction to Pepperidge Farm Goldfish Crackers but other than that my kids are easy-peasy eaters.  I don't have to listen to my kids whine and complain that they are having peanut butter and jelly AGAIN or that they want to try those expensive yogurt snacks all their friends have in their lunch.
More from MSN Living: 21 adorable Etsy finds for kids and babies
Similarly, the boys love watching the same DVDs and episodes of "Dora the Explorer" or "Yo Gabba Gabba" over and over again.  And while I do sometimes complain about watching Finding Nemo for the 1,342,893rd time I am happy knowing the same movie makes them laugh in all the same spots each time.  It's simple and yet, beautiful.
Bing: How an autistic brain works
I've never been a Pollyanna optimist but I am neither a cold-hearted pessimist.  Instead I find myself being more of a realist, and reality dictates that when you raise children with autism, whether it is high-functioning Asperger's or a diagnosis of profound autism, it's imperative that you find the joy in the small things. Like the above.

Sunday Stilwell writes about having two sons on the severe end of the autism spectrum at  Adventures In Extreme Parenthood . This post originally appeared on ScaryMommy.com:  http://www.scarymomm​y.com/the-perks-of-a​utism/
More from Parenting
News, stories, tips and laughs for moms & dads
As you trim your tree, hang the lights, bake cookies and prepare for guests, remember that there's a certain member of your family who also deserves something extra special this holiday season: your dog. Save a little space under the tree for these beds, toys, collars and outfits for your favorite canine. Plus, we've even included a couple of gifts for the dog lovers in your life!

Dr. Marty Becker shares questions you should ask yourself before making the commitment to foster a shelter pet.

What one mom learned about herself might just change your world

From Ryan Gosling earrings to portable speakers, there's something here for kids of all ages.

When it comes to holiday giving, it's the thought that counts, which is why homemade gifts from kids are so treasured by their mothers. Children might not have money to spend on an expensive piece of jewelry or designer handbag, but they do have the time to DIY something special for their number one fan. If you're in charge of helping the little ones think of presents, check out the above list of homemade gifts for mom. From a custom vase to Instagram coasters to Warhol-inspired wall art, we have something for every taste and skill level.

At our household, we have a large, diverse collection of toys. While I'm not as uptight as my husband on what enters our kids' toy chest, my husband must approve all toy acquisitions mostly because of aesthetics (appearance is important). In our search for functional and stylish toys, the sustainable ones often have the best design, and appeal to the visual and tactile senses or improve fine motor skills such as dexterity and hand coordination. Here are a few of our family favorites that intrigue and hold our little ones' attention—and look good, too.

Worried that a violent video game might sneak its way into your shopping cart during the holidays? Before you make it to the register, make sure you're armed with all the information you need regarding your child's games. Just because your well-meaning thirteen-year-old promises you that the game he's about to buy with the gift card from Uncle Mike is totally chill, doesn't mean it's good for kids. Do your research ahead of time to avoid any game store drama. And have a chat with your offspring before the big day; let them know that you're going to have to green light their choices before they get their hearts set on any particular item. At the end of the day, you're just being a good parent. Some of the games on the market now may look OK at first glance, but are actually quite objectionable. Trust us: We've done our homework and we're here to give you the ultimate low-down. Check out this slideshow for all the games to steer clear of this season. Don't say we didn't warn you.

Two sociologists have found that parents who have daughters are more inclined to support the GOP and turn a cold shoulder to Democrats.

The experts at Nameberry.com predict what will be big in baby-naming next year

Famed event-planner David Stark shared tips for making chic holiday decorations using items you already have around the house. Take a look!

Sociologist Karen Z. Kramer found that over the past decade more than 550,000 men were stay-at-home fathers, which is about 3.5 percent of the married with kids population.

Ben Miller celebrates his wife's birthday and the anniversary of the day their premature son Ward Miles came home for good with a video documenting his first year.