The perks of autism
Being the mother of two children with autism does have its perks.
Don't get me wrong; my boys certainly bring out the "extreme" in parenting.  However, when I talk with my friends who are raising neuro-typical (NT) children and I listen to their many frustrations in raising them, I have noticed a number of difficulties we do not share.  In fact, I have a much easier time of parenting the Trouble Brothers because they don't engage in many of the "normal" behaviors of their NT peers.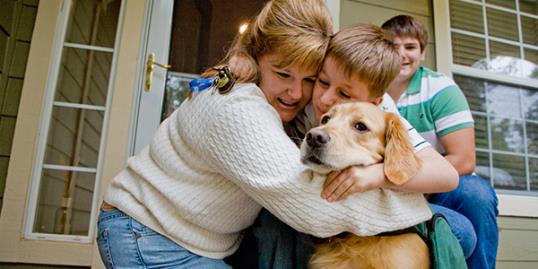 No Whining. 
My boys do not whine.  Ever. They may scream loudly like wild banshees at times when their developmental limitations prevent them from using words to express their dissatisfaction with something but they never resort to that incessant nails-on-the-chalkbo​ard whine that lasts hours and leaves a mother white-knuckling it through the day.
Lack of Sibling Rivalry.
Growing up with two sisters I remember the antics we used to pull that left our mom wanting to sell us to the gypsies.  Every trip in the car, grocery store visit, and family photography was laden with the whines of, "MOOOOMMMMM, Caryn poked me!", "MOOOOMMMM, Sunday touched my new Barbie and gave it cooties," "MOOOOOMMMMM, Molly picked her nose and touched my pillow!"  Truly, I don't know how any of us lived past the age of 10.
Thankfully, I have never had to experience this with my own children.  My boys tend to steer clear of one another and will gladly enjoy their own books, videos, or toys independently from one another.
No Fashion Awareness.
"But MOMMMMM, everyone has more Silly Bandz than me!", "I can't wear THAT!  All the kids will make fun of me if I don't have such and such jeans!", "I am NOT wearing anything that comes from Walmart, Mom!"
Thankfully the Trouble Brothers will never utter these words.  Individuals with autism do not recognize the social desire to fit in and follow the crowd.  They are their own crowd and they like it that way.

Lack of Greed and Competition. 
Thankfully my boys don't spend Christmas morning counting who has more presents than the other.  If money is a little tight and they only have one present on their birthday they are overjoyed with what they do have instead of being mad that there wasn't more. 

More from Mom to Mom: Real Housewife Jacqueline Laurita shares her journey with son's autism diagnosis

In fact, I can visit the local children's consignment shop and buy a gently-used toy for a quarter of the price of a new one and they could care less.   They are happy to have anything that is new…even if its only new to them. 

Not hearing "WHY???" Endlessly.
If there is one thing I am most thankful for in having children with autism it is that I never have to listen to barrage of whiny ad-nauseam "WHY?" questions. In general, individuals with autism do not tolerate not knowing what is coming next. This is why the question "Why?" makes them uncomfortable. The autistic mind prefers knowing the answer to a question before asking it. At the very least, they prefer a simple "yes" or "no" answer over the unknown that can follow the question, "Why?"
More from MSN Healthy Living: Can you spot autism risk at birth?
Routine. 
My kids have a very set routine to their day-to-day life.  Their diets are boring and quite limited but those limitations also make meal times a snap.  I know that as long as I have bread, cheese, and chocolate chip cookies in the house the boys are set for life.  Noah has a definite addiction to Pepperidge Farm Goldfish Crackers but other than that my kids are easy-peasy eaters.  I don't have to listen to my kids whine and complain that they are having peanut butter and jelly AGAIN or that they want to try those expensive yogurt snacks all their friends have in their lunch.
More from MSN Living: 21 adorable Etsy finds for kids and babies
Similarly, the boys love watching the same DVDs and episodes of "Dora the Explorer" or "Yo Gabba Gabba" over and over again.  And while I do sometimes complain about watching Finding Nemo for the 1,342,893rd time I am happy knowing the same movie makes them laugh in all the same spots each time.  It's simple and yet, beautiful.
Bing: How an autistic brain works
I've never been a Pollyanna optimist but I am neither a cold-hearted pessimist.  Instead I find myself being more of a realist, and reality dictates that when you raise children with autism, whether it is high-functioning Asperger's or a diagnosis of profound autism, it's imperative that you find the joy in the small things. Like the above.

Sunday Stilwell writes about having two sons on the severe end of the autism spectrum at  Adventures In Extreme Parenthood . This post originally appeared on ScaryMommy.com:  http://www.scarymomm​y.com/the-perks-of-a​utism/
More from Parenting
News, stories, tips and laughs for moms & dads
Stroll down any aisle of a Toys"R"Us these days and you'll be confronted with a billion options that are light-years beyond anything you had to entertain yourself with as a kid. Lego cruise ships (complete with flatscreen TVs in the lounge and sideboard jet-skis), battery-operated Mercedes-Benz sedans, and hi-tech tablets with Android operating systems abound. We wondered, as we let ourselves get nostalgic for a moment, if any of the beloved toys we played with as children were still even on the market. Thanks to a quick hunt on the Internet we were able to find that Fisher Price still makes their classic Two Tune TV, and you can still get your hands on a good ol' Slinky. Here's a roundup of the best old-school toys for kids-- we encourage you to click through the slideshow and consider wrapping up a well-loved classic for your little one this year.

Not great with a budget? Don't sweat it. Try these simple ways to save.

Watch the video of Kristen Bell going head to head with paparazzi - it will make you angry

Every year, toy makers from around the world gather to show their latest creations at the Toy Fair in New York City. The high-tech models, gadgets and trinkets on display put those basic Legos we played with at kids to shame. Here are 10 new toys that we'd happily buy or children. Or, really, ourselves.

Find yourself wandering the aisles, suddenly needing an owl-shaped candle while drinking a $5 latte? You're not alone, moms...

Here's some parenting advice for whatever stage of separation or divorce you're in.

Whether you pop it in the mail or post it on social media, a creative photo is a surefire way to grab everyone's attention and proudly say, "I'm pregnant!" Prepare for a lot of likes.

Remember the magical children's rooms in Peter Pan and The Little Prince? These timeless novels described spaces that were enchanting and made us wish that we could inhabit the rooms ourselves. The sumptuous interiors that were filled with never-ending toys and fort-like draping may seem like a fairytale, but thanks to four of our favorite kids' furniture websites, the dream could actually become a reality. Click through the slideshow to check out the best kids furniture websites that have everything necessary to create a fantasy room for your little one. And check out Sophia Demenge's super-fun space in the video below. By Barry Samaha

They lay, they play, and they take selfies with supermodels. Meet 5 of the most social media-savvy pets—animals taking control of their own fashionable online image.

We could try to offer you carefully researched and crafted words of Dad-centric inspiration, intended to show you the path to being a better man and, in turn, a better father. But Tom Limbert took up the task for us in his new book 'Dad's Playbook: Wisdom for Fathers from the Greatest Coaches of All Time,' so we left it to him. Limbert -- a parent coach and the founder of the Studio Grow children's play space in Berkeley, California -- has collected pearls of wisdom from an elite crew of coaches who have not only experienced greatness themselves, but also found ways to consistently instill it in their teams. "It's monkey-see, monkey-do," Limbert told us, after we asked him to gather the best quotes on achieving one's goals. "If you want your child to follow, you have to lead." Click on to read the often simple-seeming words that have inspired countless others to follow through on the field, but that can also easily be translated to the school, work, fitness, and, of course, parenting arenas.

What parents need to know

It's raining, it's pouring ... but that doesn't mean the day has to be a snore. Rather than let the kids grow restless and rambunctious, why not divert their energy toward some fun family bonding activities? Although the weather may have scotched your original plans for the day, seize the opportunity to reconnect and let loose with your loved ones. Click through this slideshow for ten refreshing rainy day activities that'll make you glad the clouds (almost) rained on your parade.